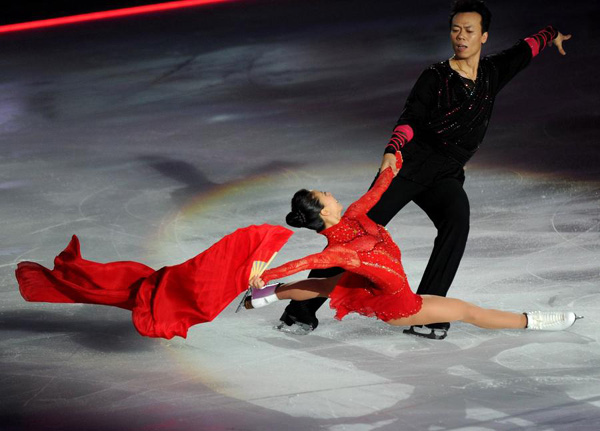 Shen Xue (L) and Zhao Hongbo. [China Daily]
With the 2022 Beijing Winter Olympics approaching, Shen Xue, chairperson of the Chinese Figure Skating Association (CFSA) said "We will provide all-around training for athletes to strive for the championship" on April 10.
Shen previously won China's first gold medal in figure skating with high scores at the 2010 Winter Olympics in Vancouver, Canada. After her retirement, she took on an official, organization role.
From an athlete to the chairperson, Shen, who only took up office three months ago, frankly stated that she was under pressure doing her job, which also brought out her sense of responsibility.
Chinese officials had previously proposed that efforts should be made to achieve the development goal of "over 50 million people directly participating in ice and snow sports" and "leading 300 million people to get involved in sports" by 2025.
Shen said she loves figure skating from the bottom of her heart. "We hope to make more people like, understand, and participate in figure skating, and cultivate more and better figure skaters in China," she commented.
In order to promote the development goal, Shen and her colleagues will ensure the performance of the national team, promote sports with outstanding results and organize suitable events for people to participate.
(Source: Women Voice/Translated and edited by Women of China)