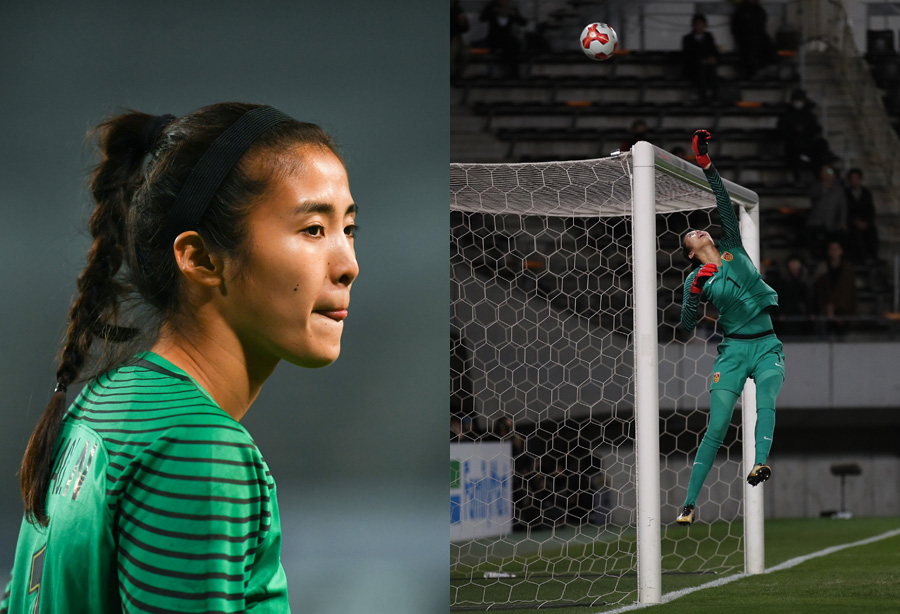 Above: Zhao Lina, who represented China at the 2016 Olympics and has more than 50 caps for international play, is hopeful the nation's female professional players will one day earn salaries comparable to their male counterparts. Right: The 6-foot-2 Zhao is a star goalkeeper for Shanghai RCB. [China Daily]
Zhao Lina is the face of Chinese women's soccer, a striking presence who towers over most people and turned down approaches to be a professional model.
Now the 26-year-old international goalkeeper, who stands 6-foot-2 (1.88 meters), hopes to use her stature to help raise the profile of the women's game in China.
The country, under avowed soccer fan President Xi Jinping, is on a mission to one day host and be competitive in a World Cup.
Chinese clubs are lavishing money to attract foreign coaches and players, while authorities are building soccer infrastructure and encouraging the nation's youth to take up the game.
Among the star players lured to China was Argentine forward Carlos Tevez, reportedly on a contract worth $880,000 a week at Shanghai Shenhua before he returned home earlier this year.
Zhao, who represented China at the 2016 Olympics and has more than 50 caps, earns just over 10,000 yuan ($1,500) a month at club side Shanghai Rural Commercial Bank (RCB) - and she is the team's highest-paid player.
In her first major interview with foreign media, Zhao told AFP she is less interested in the money - even if it is "far from enough" - and wants more people to watch women's soccer.
Her team, all full-time professionals, plays home games at a Shanghai university.
"The stadium is only half open and it can only seat a few thousand. As far as I can remember, it has never been full," said Zhao, who has played for the Shanghai side since she was a teenager.
"Not to exaggerate, but other than our relatives - my parents and other players' parents - there may be just a few dozen real fans there to watch. But China's women's football is used to this."
'Quite Pitiful'
There is a sense of irony that women's soccer could get lost in the whirlwind of ambition and cash that characterizes the sport in China.
While the men are something of a national embarrassment - never winning the Asian Cup and reaching the World Cup only once, in 2002 where they failed to score a goal - the women have enjoyed great success.
Nicknamed the 'Steel Roses,' China's national women's squad has lifted the Asian Cup eight times, coming third in the 2018 edition last month, and has qualified for the World Cup in France next year.
Though more fans watch the women's national side than club matches, Zhao hinted at despair over the lack of attention.
"If there aren't many people watching us play, what's the point?" she asked after a rigorous afternoon training session in the blazing Shanghai sun.
The RCB players train twice a day and the coaches allow only the briefest of water breaks, even as temperatures top 35 C (95 F).
"People don't know women's football has professional teams. They think we work during the day and have training at night," said Zhao, who lives with her teammates on an austere sports campus.
"Sometimes I feel women's football is quite pitiful because we are doing the same thing (as the men), making 100 percent effort."
Sofa Sleeper
Zhao, who combines agility with impressive ball distribution, has been tempted away from soccer and she briefly quit the national team because of injuries and all the traveling.
During that hiatus she caught the eye of a modeling agency, which approached Zhao's club about employing her.
Her coach refused, without so much as a discussion of the matter.
But Zhao, who has her nickname "Nana" tattooed on one hand, seriously considered a career move, going as far as to visit some modeling companies.
"I thought I could give it a try, but I discovered I couldn't do it when I went there," said Zhao, a keen drummer who hopes to start her own band one day.
Zhao also had offers to play soccer abroad but she is a Shanghai native and hopes that on her salary, though meagre compared to men, she can repay her parents for their support, even if her mom was not sold on the sport at first.
Zhao grew up with her parents and grandparents in a small apartment and had to sleep on a sofa in her parents' bedroom.
"I want to make more money so that my parents can enjoy living in a new house," she said.
"I hope the pay for women's football can increase, but more importantly, I hope there are more people coming to watch."
(Source: China Daily)