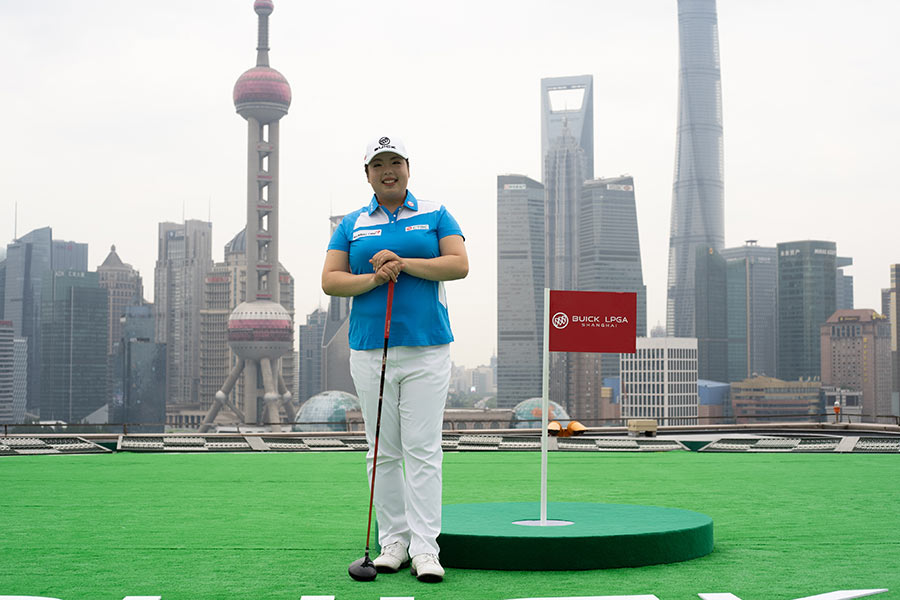 Feng Shanshan poses during the launch of the SAIC-GM Buick LPGA tournament in Shanghai on Thursday. [China Daily]
Feng Shanshan has a reputation for being a quirky personality who never fails to stand out from the crowd — both on and off the fairways.
She wears trademark cow-print outfits on the course. She fields questions from the media with deadpan humor. She even left President Xi Jinping stumped with her "Mr. President, you are so handsome" comment when the two met at the Great Hall of the People in Beijing following her bronze-medal win at the 2016 Rio Olympics.
Even her profile pic on the LPGA website stands out, with the 28-year-old holding a knitted toy she calls Panda Shan, which resembles a girl wearing a panda-shaped hat.
"That's me," she laughs. "My team and I had this idea of creating something this. I thought it would be good if the photo could have some Chinese element because, you know, I represent China."
Born in Guangzhou, Feng first picked up a golf club when she was 10, learning the ropes from her father who worked for the local sports bureau. At 17, she was offered a scholarship for Gary Gilchrist's academy in South Carolina with the sole aim of making it onto the LPGA.
By the end of the first year, Feng's US adventure had nearly depleted her parents' life savings. However, the faith in their daughter was soon rewarded.
In 2008, she became the first Chinese golfer to play on the tour and she has since earned over $10 million in prize money.
It's not all been plain sailing, however, with the former world No 1 battling through a form-sapping bout of self-doubt which set in during her Olympic qualification bid.
"It was the first time that golf was making an appearance at the Olympics after more than 100 years so I really wanted to qualify for it," she recalls.
"There were many young Chinese players that year. They were powerful. They were skillful. They were playing so well that I started getting stressed out.
"I reflected on what I was like when I was their age, and this was when I realized that I used to be aggressive and unafraid of making mistakes. Now, I was more concerned about maintaining my rankings and not losing out on the prize money. I was playing it too safe.
"And so I started to be aggressive again and that really helped me regain my form. I got my confidence back after winning a bronze in Rio."
Feng emerged reborn from that trying period. She has since gone on to claim five championships in just two years. But she isn't done winning - she now wants to defend her title at this month's Volvic Championships in Ann Arbor, top the podium at the 2020 Tokyo Olympics, win her second major title and get inducted into the Hall of Fame.
It's an ambitious to-do list for someone who had originally intended to retire last year.
"My initial plan was to retire after 10 years in the LPGA. Last year was my 10th year but I actually managed to become world No 1, so everyone was telling me that I can't possibly retire now. I also knew that I wanted to play in the Tokyo Olympics," she says.
Feng already has plans for life after competitive action. Last June, she started a junior golf academy in Guangzhou that employs Gilchrist's coaching techniques.
In the meantime, Feng will rely on some good old-fashioned shopping therapy to keep her hungry on the course.
"I get one or two bags for myself every time I win," she laughs. "Sometimes I also buy a bag when I'm not playing well, then tell myself that I have to do well in the next competition because I need to make the money back."
(Source: China Daily)