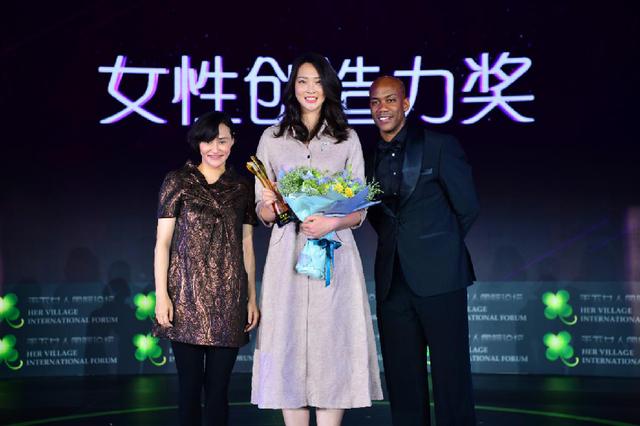 Gao Min, Hui Ruoqi and Stephon Marbury at the ceremony [Women Voice]
Gold-medal-winning volleyball player Hui Ruoqi was recently presented with a Women's Creativity Award by fellow athletes Gao Min, the world-class Chinese diver, and Stephen Marbury, the famous U.S. basketball player, at a special ceremony.
Hui was a member of the Chinese volleyball team that won the championship at the 2016 Rio Summer Olympics.
The Women's Creativity Award is organized by Her Village International Forum, which is established by a Chinese media company, Sun Media Group, and aims at promoting Chinese women's image worldwide in order to honor female power in areas including economy, culture, and everyday life.
Speaking about the prize, Hui said she was not perfect enough and thinks she still has much room for improvement. When asked about being a representative of the "perfect woman", Hui resolutely acclaimed volleyball coach Lang Ping's achievements.
A spokesperson for the sponsor stated that Hui won the award not only because of the glory she won for her country, but also because of her dedication to helping others.
Her actions have broken stereotypes among the public towards sport, and focused on the humanity and life of sportsmen and women away from the stadium, said organizers.
(Source: Women Voice/Translated and edited by Women of China)