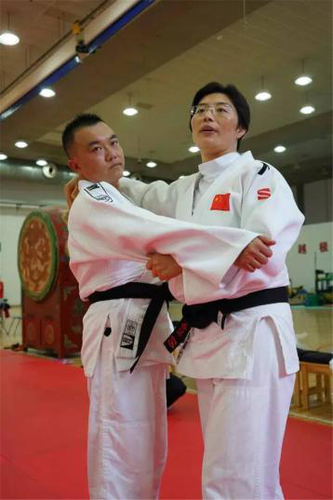 Leng Chunhui (R) [China Sports Daily]
Leng Chunhui, the hardworking coach of the provincial women's judo team in northeast China's Liaoning Province, has strived to advance the popular sport in her country for over 33 years.
Recently, Leng gave an interview to journalists to share her story and talk about her route from a professional athlete to a top coach.
Leng was selected to enter Dalian Sports School in 1985 when she was still in junior high.
"At first, I was supposed to practice shooting. Then, judo was just being introduced into China. I didn't know about it at all," said Leng.
Due to her talent, two years later, she was selected to join Liaoning Provincial Team by the famous coach Liu Yongfu.
In 1988, Leng became the national champion. At the 1993 Women's Judo World Championships, she won the women's 72kg championship.
"The day of the World Championships happened to be Chinese National Day and Mid-Autumn Festival. I was the first world champion from China at this level, so it was especially memorable," said Leng.
The only regret in her athletic career was that she never won a gold medal at the Olympics.
The Barcelona Olympics in 1992 was the first time women's judo was represented. Leng was arranged to compete for women's -66kg event, but she was eliminated in the second round due to lack of experience.
In 1995 she won the World Grand Prix again, and in other world competitions she always came among the top three.
At the 1996 Atlanta Olympic Games, she wanted to try again. "I was already an old player with injuries. I failed again which hurt me a lot," said Leng.
In 1997, she retired and became the assistant to coach Liu in Liaoning team.
In 2010, the whole team was divided into two groups. Leng became the head coach of one group.
But as a new head coach who was used to be an assistant, Leng had no idea what to do until she met her protege, Ma Yingnan.
"Ma is a flexible player with good physical and psychological qualities. But at that time, she had just attended the National Games and came fifth. She was so frustrated that she want to give up," said Leng.
Leng invited Ma's parent to the training ground and encouraged Ma to keep up.
From then, they sank their heart into practice. In the final of the National Games held in 2013 in Liaoning, Ma won first place in just 38 seconds and became famous overnight.
During the preparations for the 2016 Rio Olympics, Ma's performance in the national team was not outstanding, and it was likewise in international competitions.
"She experienced psychological fluctuations and even began to doubt herself again," said Leng.
When they felt hopeless, Ma won the championship at the Mongolia Grand Prix which inspired them.
At the Rio Olympics Games, she won fifth place and at the 2017 National Games she won the championship at 33.
After the match, Ma thanked Leng by saying, "Older athletes like me have many obstacles in dealing with injuries. But my coach has given me much help."
"I struggle and I am happy. For decades, I have always been grateful," replied Leng.
(Source: Women Voice/Translated and edited by Women of China)