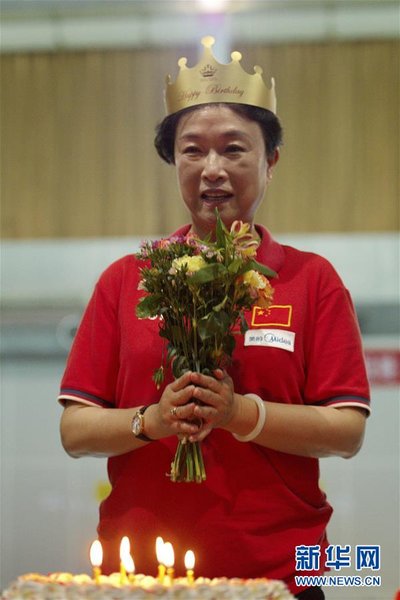 Ye Jin at her birthday party [Xinhua]
Chinese naval swimming coach Ye Jin celebrated her 62nd birthday in style on April 16, as her team won gold in the 4x100m medley race at the Fenjiu Cup National Swimming Championships the same day.
The sports meeting, which took place in Taiyuan, north China's Shanxi Province, was also a trial event for the upcoming Asian Games.
Ye, 62, has been a coach for 44 years. She personally trained world champions such as Qi Hui, Ning Zetao, Qu Jingyu, Lai Zhongjian and many others. She is still active on the first line of China's national swimming contingent.
As the oldest swimming coach in China, Ye is sometimes called "Magic Coach" by her disciples.
"Coach Ye is good at making miracles happen, leading the team from one victory to another. We expect her to continue to create miracles," said Wang Qiang, captain of the naval swimming team.
Ye's birthday has been spent during the games many times before. Although there was no family accompanying her, she was greeted by the flowers, gold medals and blessings of the players.
"I am happy to have my team around me on my birthday," said Ye.
The gold medal in the 4x100m medley race was also a "surprise present" for her. "I want this championship. We are a united team who fight together. This is the best gift for me," Ye said.
Ye used to be an athlete with a short career. At 18, she gave up swimming due to injuries and became the youngest coach of the former Nanjing Military Region. It turned out to be the start of a brilliant career.
At 42, in the most difficult years of swimming in China, she led Qi Hui to break the world record three times. At 59, she led her disciple Ning Zetao to win the men's 100-meter freestyle world championship.
Qin Haiyang, who she trained with great concentration, broke the world record multiple times last year. He also is the fastest under-18 swimmer in the world at the 200m breaststroke and 200m medley race.
Ye said, "I love those kids. As long as I am still coaching, I am willing to help them achieve their dreams."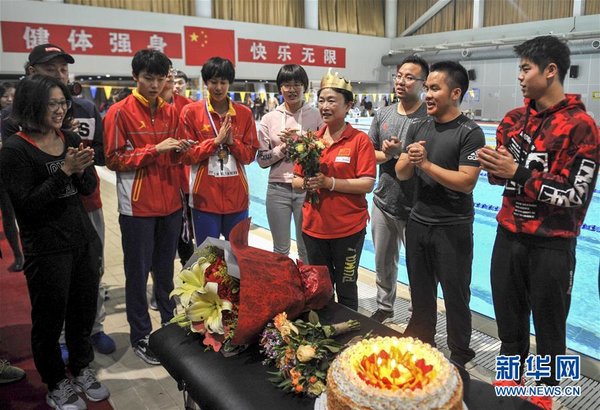 Ye Jin (front row, 5th from left) with her disciples and colleges [Xinhua]
(Source: Xinhua/Translated and edited by Women of China)