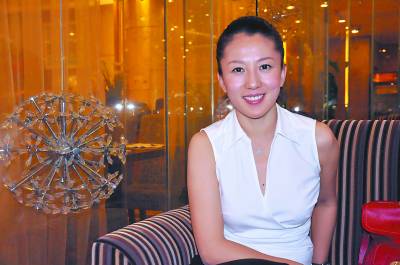 Yang Yang [Youth.cn]
Yang Yang, one of the most accomplished Chinese short track speed skaters of all time, delivered a speech at Youth Talks, an activity initiated by Xinhua News Agency, on May 4.
Yang first attended the Winter Olympic Games in Nagano, Japan, in 1998, winning the silver medal of the women's 3000 meters relay short track speed skating. She was extremely disappointed with the result, despite the intense training she had undertaken before the match.
Yang almost gave up after the defeat, but she firmly decided to use it as motivation after much deliberation.
Yang said it was difficult for her to face her failure. However, it was also necessary to learn lessons from the past. "Looking back at that race, I found that it wasn't irretrievable. Instead, I was surprised to realize that there was plenty of room for improvement and I had a firm determination to win in the next event," said Yang.
Yang has won six consecutive world titles in this sport from 1997 to 2002.
In the 2002 Salt Lake City Winter Olympics in the U.S., Chinese players all aimed at winning the first gold medal with great expectations, and Yang was no exception.
Whilst she failed again, finishing in fourth place in the women's 1,500 meters. She had always come first for the past five years in that game.
Yang was extremely humiliated after the defeat, but she rebuilt her confidence in the next 500 meters short track speed skating race. As expected, Yang won gold.
After retirement, Yang participated in the development of the Olympic cause in the International Sports Organization, including founding the championship fund, inspiring young children to bravely face the future with the qualities of a champion, helping athletes make career plans and advocating for more children to participate in winter sports.
"The dream allows us to see the future, motivates us to move forward and constantly surpass ourselves," Yang said, noting that she hoped to offer advice from her own experience as an athlete for the preparations of the 2022 Beijing Winter Olympics and Winter Paralympic Games.
(Source: Women Voice/Translated and edited by Women of China)