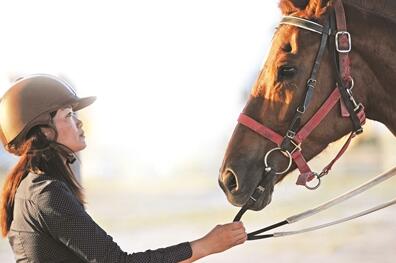 Hou Shiwen with a horse [Women Voice]
A Chinese student who studied and worked in France quits her well-paid position overseas recently and returned to her hometown to promote her main passion, equestrianism.
Hou Shiwen is currently a coach at a horse-riding club in Binhai New District in north China's Tianjin Municipality.
In her early days, displeased with the university she enrolled in after the national college entrance exam, she decided to travel abroad to follow her dreams.
Hou spent one year preparing before she successfully earned a place at Vatel International School of Hospitality and Tourism Management to learn about keeping horses.
When she was in France, she spent most of her time with animals, learning about every aspect of training them and riding.
"Equestrianism is popular there and I was attracted to the cozy and relaxed lifestyle. It is pleasant," Hou says.
Later, Hou systematically studied the internationally-standardized French equestrian system.
The few years of study helped her to lose weight and gain confidence. Therefore, she decided to promote equestrian culture to benefit more people.
After six years of study and work in France, in 2016, Hou resolutely gave up her high-paying job and return to Tianjin because she was tired of the drifting life abroad.
She soon quickly entered an international hotel with a wealth of work experience and outstanding foreign language skills.
Since she was not content with the life after working for six months, she resigned again and became a coach and partner of an equestrian club.
"She is good at riding, and she can also speak English and French. Besides, she's kind to people. We talked about many development plans of the club and we were concurring. We are ready to build a flagship club in this area," said Chen Xuhui, the head of the club.
Hou says that she is also ready to participate in equestrian events as a competitor and prove herself on the track.
(Source: Women Voice/Translated and edited by Women of China)