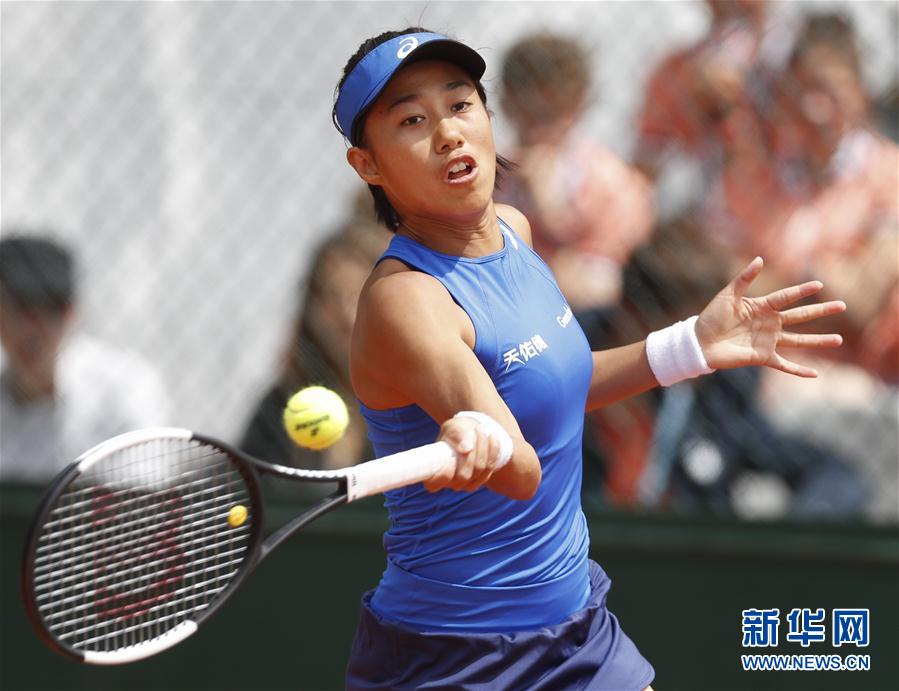 China's Zhang Shuai returns the ball to Varvara Lepchenko of the US during their women's singles first round match on day two of The Roland Garros 2019 French Open tennis tournament in Paris, May 27, 2019. [Xinhua]
Chinese tennis player Zhang Shuai whitewashed Varvara Lepchenko of the United States 6-1, 6-1 to reach the second round of the French Open here on Monday.
Zhang failed in the first round on consecutive occasions in recent clay tournaments, while overwhelming her American opponent in 52 minutes thanks to her dominance concerning win on first and second serve.
Zhang won 81% on first serve, 41 percent over Lepchenko. She also bettered her rival by 40 percent in win on second serve.
Zhang utilized two early breaks to take away five games in a row en route to a 6-1 opening set win.
The 50th-ranked Chinese never looked back in the second set with anothter 6-1.
"I have won quite easily in our recent clashes due to our similar game styles," said Zhang, adding that the one-sided win should not be exagerated about her current form.
For Zhang, recent sluggishness on clay didn't inflict much pressure on her.
"I just played to my level on clay. Actually it's because my opponents are quite strong on the surface," Zhang explained.
"Even if I failed, it would still be a good experience. It's important to learn about your weak points through consecutive losses," she added.
Zhang will take on Estonian veteran Kaia Kanepi, her former doubles partner several years ago, in the second round.
"I know her quite well. She is strong on clay. No matter where she is ranked, I need to focus on myself for every point," Zhang noted.
(Xinhua)