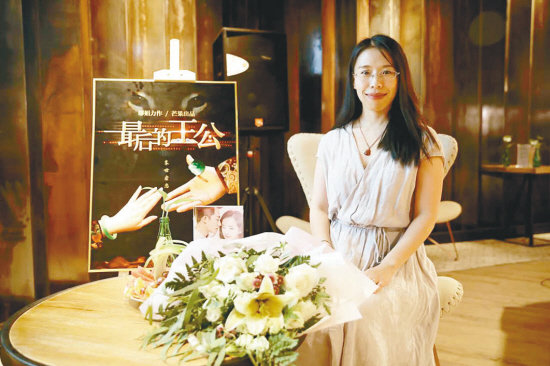 Ji Yuanyuan [Shenyang Daily]
Famous young Chinese novelist Ji Yuanyuan recently said: "I hope to introduce my hometown's culture and people to more readers through my writing."
Using the pseudonym Miao Juan, Ji, from Shenyang, northeast China's Liaoning Province, recently hit the big time after one of her novels was adapted into the blockbuster TV series Dear Translator.
Ji said she spent around three months writing the book, which was downloaded 100 million times online. The ratings of Dear Translator have set many new records since it was broadcast.
This year, there are plans for several more of her novels to be adapted into movies and for the small-screen, with two or three currently or about to go into production.
A year ago, the writer and her French husband moved back to her hometown after having lived in a small city below the Alps for around 10 years. "I came back to Shenyang once or twice a year before, witnessing the city's fast development and huge changes."
"At present, I spend the biggest part of my time working in Beijing and Shanghai. However, I still prefer the living atmosphere of Shenyang."
As a professional author, Ji still maintains a schedule of reading and writing some 3,000 new words a day aside from being busy working on adaptations.
"The stories that I write must have a connection with something related to my hometown. Usually at least one leading character in my novel is from there."
In the eyes of the writer, everything in Shenyang is perfect. She said, "I am a native of Shenyang. I have a best understanding of the people and stories here. Hence, no matter where I am, I will introduce my hometown to people I meet."
(Source: Shenyang Daily/Translated and edited by Women of China)