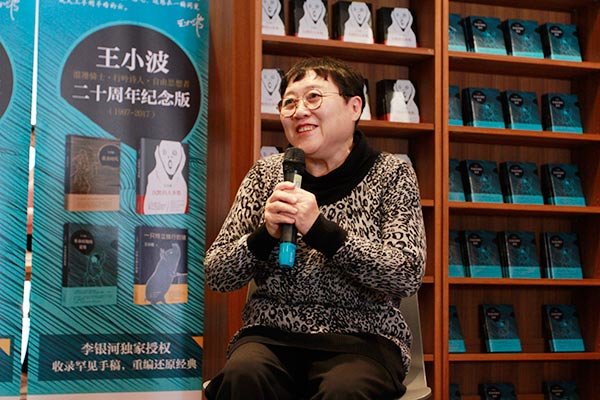 Li Yinhe, wife of Wang Xiaobo, attends the book launch of Wang's new collection in Beijing. [China Daily]
Chinese author Wang Xiaobo died 20 years ago, but his works are still popular among Chinese readers.
Beijing October Culture and Arts Publishing House released a collection of Wang's works on April 11, his death anniversary.
About 100 people crowded a Pageone bookstore in Beijing for the book launch, including Li Yinhe, who's Wang's wife and a professor of gender studies at the Chinese Academy of Social Sciences.
"I went to his tomb this morning, and I saw flower bundles, cigarettes and liquor laid in front of the gravestone," says Li.
"I also found a piece of paper with his words-someone wrote it down and left it there. A butterfly lingered on the paper."
Yang Xiaoyan, the editor of the collection, says all of Wang's works are included in the seven-installment collection, including some previously unpublished manuscripts.
Li thinks the reason why people still commemorate Wang is that the problems Wang tried to address with his works remain unsolved.
A collection of his novellas, Wang in Love and Bondage, was translated into English, and is available on Amazon. His novel The Golden Age was translated into French, Japanese and Korean, according to Li.
Wang was born in Beijing in 1952, and experienced the "cultural revolution" (1966-76), during which he was sent to the countryside of Yunnan province to work as a farmer.
Wang started writing during that time, and life in the rural area in southwestern China became the setting for many of his later works.
He was relocated to Shandong province, and worked as a teacher in 1971.
Two years after the end of the turmoil, Wang took the national college entrance exam and was accepted by Renmin University of China in Beijing.
Wang married Li in 1980 and studied East Asian Studies at University of Pittsburg in the United States.
He returned in 1988 and taught at Peking University and Renmin University before he became a freelance writer in 1992.
His novels and essays, including The Golden Age and Love in the Time of Revolution, became popular in the 1990s.
"It's been two decades, and Wang Xiaobo's novels have defied time," says Cheng Er, director and novelist, adding that the thoughts and narratives, together with the freedom contained in Wang's works, still surprise him every time he reads them.
"His humor and sarcasm are at a place still overlooking today's society," Cheng says of Wang's essay collections, such as The Silent Majority and An Idiosyncratic Pig, which delve into arts and social issues, calling for a spirit of critical thinking.
"Reading his words, sometimes I am immersed in thoughts, and sometimes I burst into laughter."
(Source: China Daily)