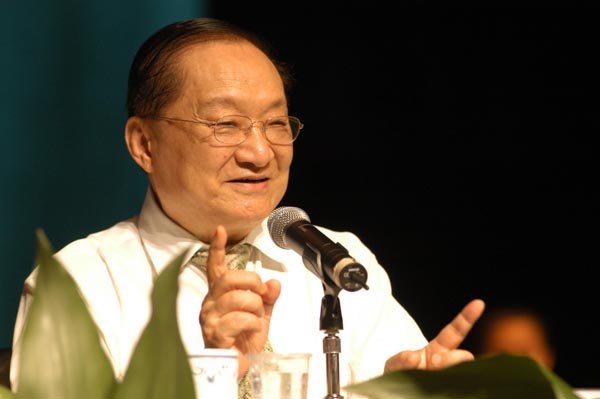 The martial arts novels by Louis Cha will be adapted into online comic series, targeting young people. [China Daily]
One of China's most influential authors, Louis Cha, who is better known by his pen name Jin Yong, will see all his 15 martial arts novels adapted into online comic series.
Among them, four classics - as the first batch of the adaptation project - will have their comic strips run on the web by the end of the year, according to the producers, Tencent Animation & Comics and Phoenix Entertainment.
The two companies are subsidiaries of tech giant Tencent Holdings Ltd and Hong Kong-based broadcaster Phoenix TV.
The four novels are Tianlong Babu (Demi-Gods and Semi-Devils), Lu Ding Ji (Duke of Mount Deer), Xiao Ao Jianghu (The Smiling, Proud Wanderer) and Xia Ke Xing (Ode to Gallantry).
Cha's books have earned him millions of fans.
Zou Zhengyu, general manager of Tencent Comics & Animation, says Cha's novels, written from 1955 to 1972, are known to the post-1990 generation in adaptations of movies, TV dramas and games.
"But the original books have probably been read by a small number. We hope the comic series will attract more youngsters to read the novels," Zou said at a recent promotional event in Beijing.
Weaving historical turbulence into adventures, the author's tales are studded with plot twists, bittersweet romances, emotional connections as well as abundant depictions of Chinese culture, including poetry.
During the past six decades, his novels have reportedly sold up to 300 million copies - with bootleg copies too - and have been translated into foreign languages such as Korean, English, Japanese and French.
Cha, 93, could not make it to the Beijing event but a photo - featuring him holding a draft of his writing on Princess Jianning, a role in Duke of Mount Deer - was shown.
In a piece of calligraphy written for the upcoming comic strips, the author writes that he was eager to see a good adaptation.
Zou from Tencent also reveals that his team has so far talked to more than 1,000 writers and illustrators, but hasn't decided the final list. He says the adaptation may expand to an animation series or movies if the comic series is successful.
The first comic strips are expected to appear on Tencent's ac.qq.com and its mobile app in September, and the comic series may run for five years.
Zou says Tencent's online comics and animation platforms are visited on average by 90 million people per month, with estimates that such viewers in China now stand at some 300 million.
Most Chinese fans are fascinated with comics from Japan and the United States, but Zou says he believes a blend of Chinese tradition and local talent will change the big picture.
(Source: China Daily)