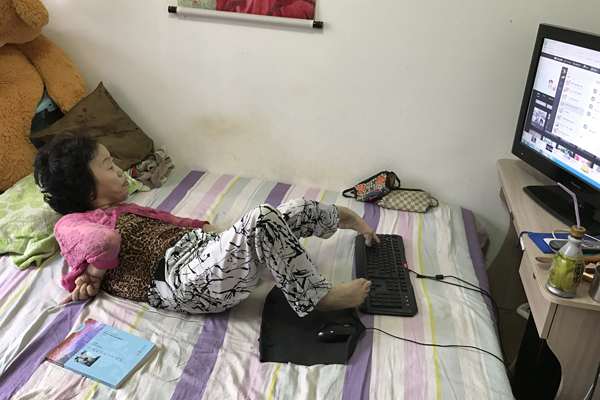 Zhao Dongmei, a woman with cerebral palsy, uses a keyboard with her toes. [Chinadaily.com.cn]
Despite having cerebral palsy, 54-year-old Zhao Dongmei finished the 270,000-word autobiographic novel There Is No Disability In A World Of Love by typing with her feet.
The novel tells a range of stories in Zhao's life, including the love between her and her husband, Bouyinhshig.
On Aug 24, Bouyinhshig, a 52-year-old man of Mongolian ethnic group, will drive her around the country to travel.
Their vehicle, a motor tricycle, has been upgraded for the occasion. New tires have been installed, along with a new repairing toolkit and sofa seat, specifically prepared for Zhao.
Zhao, born in Harbin, capital of northeast China's Heilongjiang Province, was diagnosed with severe cerebral palsy several months after her birth.
Cerebral palsy is caused by abnormal development or damage to the parts of the brain that control movement, balance and posture before, during or immediately after birth. Patients often have poor coordination, stiff and weak muscles, and tremors. They may also have problems with sensation, vision and hearing, as well as swallowing and speaking.
Zhao has no problem with hearing, but cannot speak clearly, and can only use her right hand and feet.
While Zhao was unable to continue her study after four years of attending primary school due to her physical condition, she began to study by herself.
"I really love reading, especially reading novels," she said.
"When I was a little girl, I had a dream to be a novelist."
In 2003, Zhao had the chance to access a computer and the internet.
"I began to study how to use a computer and after one year's practice, I could use it with my feet," she said.
"Then I found the internet opened another window for me and brought a much wider world into my life."
With the help of the internet, Zhao also met her husband online in 2004.
They had a lot in common and enjoyed the time on the internet.
After four months' of virtual chatting, Bouyinhshig decided to physically meet Zhao in Harbin.
"Before I came to Harbin, I was clear about her situation," he said.
"I was moved by her bravery and firmness, and decided to look after her."
In as little as 10 days after meeting face-to-face, the pair got married.
"Before then, I always considered myself as my parents' burden," Zhao said.
"I never thought I could meet such a man who gave me great love and warm care."
Zhao didn't forget her dream either.
In 2008, she started her literary creation.
"I hope I can record all of my experience in the novel," Zhao said in an interview with China Daily.
While her physical handicap brought her enormous difficulties, she overcame the challenges and typed slowly with her feet. It took her about four years to finish her book.
"I never felt tired during the process," she said. "I really love writing and my dream gave me great power."
"I look forward to our following journey. I have never seen the sea before and my husband specifically chose the route along the sea."
Bouyinhshig said he hoped the couple's trip would bring more precious experiences, which could be used as an inspiration for Zhao to write in the future.
"I know there must be lots of difficulties during the trip," he said.
"I have been well prepared and I want to take her to see the real outside world."
(Source: China Daily)