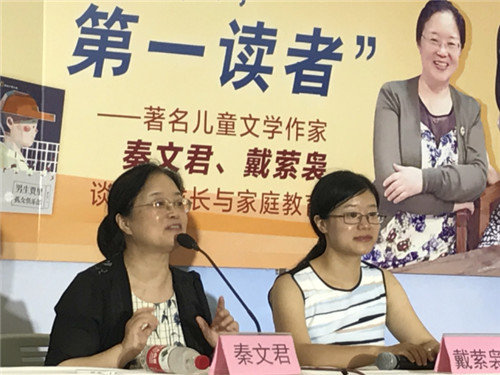 Qin Wenjun (L1) speaks at an event. [eastday.com]
Qin Wenjun, a famous Children's literature writer who has published over 50 works with more than 6 million words, recently gave an exclusive interview about reading, writing and growth in Shanghai.
Although Qin is in her 60s, she is still popular with readers of different ages who were enthusiastic about asking for her signature at an activity during the recently-concluded Shanghai Book Fair.
Here is a segment of Qin's talk with a news reporter in Shanghai.
Q: In your opinion, what does reading mean to children?
A: Reading is very important for a person's spiritual development. I once said that the potential of children who are fond of reading is immeasurable. Nowadays, children are very smart, but they lack an ability to keep themselves calm and a majority of them are relatively impetuous. With the prevalence of various electronic products, it is difficult for youngsters to read spontaneously. Therefore, children's reading habits must be trained. Parents and teachers should let children have affections for books, and then gradually help them develop reading habits. Once the habit is formed, children may become a lifelong book lover. Reading can help them develop better concentration and they may even educate themselves.
Q: Should children only read children's books or are children's books just for children?
A: I do not think so. Some people may think that creating children's works is very simple because the leading characters in the books are generally animals or little kids. But, it is not that easy in fact and it is just the writing style of children's books that makes people feel pure and funny. Children's books express human beings' feelings which comes from the authors' inner voice. Children's literature is also an encyclopedia. I think only when a writer has read around 1,000 books can he or she write a book of great essence. At ordinary times, I read many different books. Writers may read more books than those in other industries. For those children who have started reading at an earlier age, I believe that it is better for them to read things like fairy stories. After all, reading is a "marathon" and it lies in persistence.
Q: Your books have accompanied the growth of people from generation to generation. What do you think of changes in the tastes of readers who are born in the 1980s, 1990s, and 2000s?
A: It is a tough issue for many writers of children's books to create splendid works. In order to attract children's attention, writers have to make some explorations on the original works. For the same book, children can receive information at different levels and their focus is also different. But, children of different generations have similarities for they want to be accepted in the process of growth and they want their lives presented in the literary works. A good piece of work should have a wide range of meanings and can meet the needs of people of different ages and different groups. Literature will certainly change in different times, but it is a slow process, unlike the fast development of science and technology.
Q: When it comes to science fiction or magic, many people will think of Harry Potter. It can be said that the success of Harry Potter is unprecedented. In your opinion, does China have such potential writers? And what advice do you have for young writers?
A: I believe China will have such writers sooner or later. Currently, I am creating a book with characteristics of science fiction. At the same time, there are talents like young writer Dai Yingniao whose fantasy work titled Little Bear Baozi has been published in over 500,000 volumes and has won multiple awards. Dai's work of an oriental style focuses on a kind of artistic conception. I think some writers in their twenties do not have their own utterance and artistic ideas and some like to follow the trends of the market. Writers should listen to their inner voice instead of blindly following the trends. It is of great significance for them to constantly improve themselves and write something that they are good at and are really interested in.
Q: Chinese children are believed to lack imagination concerning writing under the background of an exam-oriented education. What do you think about that?
A: In my opinion, education should be understood in a broader sense, which can free people's minds, and help them develop physically and mentally in an all-round way. Actually, children themselves have imagination but are not stimulated. The importance of education is to stimulate their imagination. An outstanding literary work is composed of two characteristics, namely a soft, sensible heart and an extraordinary imagination. Only through a lot of premium reading can children's imagination be motivated. At present, around 70 or 80 percent of children are distressed about writing, or they do not know how to express their ideas in words. This can all be improved by reading. Reading is the "mother" of writing.
Q: As you said that many children have difficulties in writing, do you have some good suggestions?
A: First of all, I suggest children read various kinds of books and read the books they love more than once. Meanwhile, parents should choose a good writing teacher for their children.
Qin Wenjun signs for readers. [eastday.com]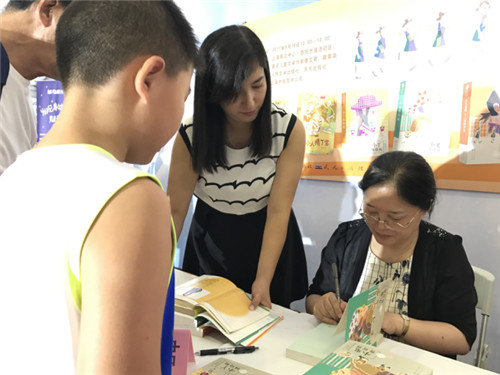 Qin Wenjun signs for readers. [eastday.com]
(Source: eastday.com/Translated and edited by Women of China)