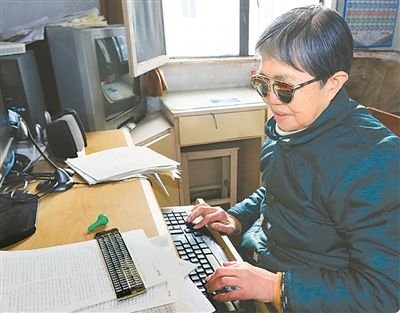 Zheng Peizhen creates works at home. [Ningbo Daily]
A vision-impaired female poet from east China's Zhejiang Province recently won third prize in the First National Blind Person's Poetry Competition, which was held in Beijing.
Zheng Peizhen, 65, is the only winner from the province in the contest.
After graduating from primary school in 1966, Zheng lost her eyesight due to retinal detachment. Three years later, her family invited a teacher to teach her braille.
Zheng said that she still has vivid memories of her first attempt to learn braille. "Teacher taught me four braille alphabets in the first week. Then I tried to dig into the method of learning braille. After I recited an article of Chairman Mao titled Serve the People, I mastered all braille alphabets."
Zheng added that her teacher was amazed that she learned braille so well in just a couple of days.
In the following years, Zheng has learned how to read middle school and senior high school braille textbooks by herself. "I must speed up my efforts to keep learning. I cannot fall behind others."
When talking about adversity in childhood, Zheng's smiling face reflects her tenacity and optimism for life.
Since the beginning of the 1990s, Zheng has created literary works. To her delight, her first poem submitted to the local Ningbo people's radio station was officially accepted and won a prize.
Over the years, she has published many articles about life of vision-impaired people while taking part in various competitions, which has led her to win numerous awards. In 2012, Zheng became a member of the Ningbo Writers Association.
Zheng claimed, "Although I lost my eyesight in childhood, literature has helped me find light in the darkness."
The strong-minded woman turns on her computer on time every afternoon to listen to online lectures to improve herself. She said, "Recently, a saying widely circulated on the Internet - there is not only struggle in this world but also poetry and distant places. For me, the Internet brings me to distance places and it is the future."
(Source: Ningbo Daily/Translated and edited by Women of China)