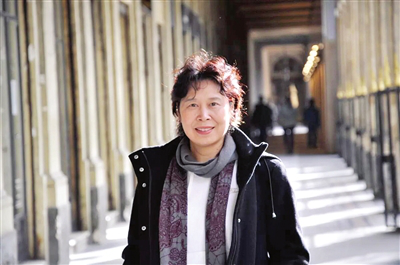 Zhang Ling [Xinhua]
Zhang Ling, a fiction writer born in Wenzhou, east China's Zhejiang Province, started writing after the age of 40 and is famous for presenting human nature with mature and accurate observations.
Zhang graduated from Fudan University in 1983 and began to publish works overseas since the 1990s, including A Single Swallow, Gold Mountains Blues and The Aftershocks, a story about 1976 Tangshan earthquake, was adapted for film by Chinese top director Feng Xiaogang.
Zhang, who has worked as a hearing therapist for 17 years in the U.S. and Canada, has always preferred themes of disaster, pain, trauma and salvation.
Her new work, A Single Swallow, was the first work describing the secret mission of the U.S. Navy aiding China. For Zhang, creating a character is like handcrafting an object. It is the process of turning materials and imagination into fiction.
Zhang resigned from her job to write full-time in 2010. She tended to do plenty of preparation work before starting to write.
Even if she was fully prepared in the early stages, she would continue to polish her works afterwards.
"In the second and the third draft, I need to find the inconsistencies in the characters, places, and times, and smooth the tone to be restrained and concise," said Zhang.
Zhang said: "I intended to write a novel about war, but lacked of content and inspiration. When I was working on a reading study, I chanced upon a memoir of a retired U.S. Navy general who once aided China. The author noted a place called Yuhu, which was described as a village in my hometown Wenzhou."
"I have always thought that Wenzhou, at wartime, was a paradise to some extent. I did not expect that Yuhu, an almost isolated village, had been visited by dozens of U.S. soldiers more than 70 years ago.
"A Single Swallow was not an anti-war novel in general. It is a reflection of spiritual growth or trauma, even a romantic fiction. The old people in Yuhu village provided me a great deal of real, sincere, and humane details." Zhang added.
Touch on her experience as a hearing therapist, Zhang said that it brings her a stable income and provides great inspiration for writing.
"Some of my patients are ex-servicemen. Their experience was unimaginable to me, as someone who grew up in peacetime. Their life experiences have greatly intrigued me in topics such as disaster, trauma, and redemption.
"I want to discuss changes in spiritual states, the power, greatness and evil of people when disasters occur to them and push them into a hopeless situation, and the bearing capacity of people going through disasters. Among my novels, A Single Swallow presents the most pressing and brutal aspect of human nature."
Being overseas for many years, homeland memories and Chinese stories from Zhang's perspective are somewhat different to writers in China.
She said: "I have been abroad for so many years and lost the root of Chinese culture. I admire writers who are rooted in their native lands and can continuously absorb creative inspirations from inside. Although I have always been writing the story of my homeland, I'm sure those writers' works are more authentic than mine."
Zhang also stated that,"I sometimes encounter obstacles in creation, but not frequently, because I'm picky in selecting themes. If a theme doesn't give me a huge impact and inspiration, I'm not going to write it down.
"Writing is delightful and easy if you're full of inspiration, but barriers can appear occasionally. You can wait for another wave of inspiration, instead of being caught in anxiety.
"I like to challenge the boundaries. For example, many friends had kindly reminded me that women writers are not as well suited to writing about the themes of disaster and war as male writers are. However, I've always believed that there is no theme that is improper, only unique perspectives that have not yet been explored. Gender has never been an obstacle for a writer to describe the world."
Chinese Nobel laureate Mo Yan once commented that, "Zhang's language is delicate and accurate, especially on women's feelings, which is quite similar to Eileen Chang." In this regard, Zhang said: "Chang and I may have similarities in the emphasis on language, but I think there is a difference in the ultimate view of the world between us."
During her studies at Fudan University, Zhang preferred to read English classics, such as the works of Charles Dickens, Thomas Hardy, and George Eliot, which laid an aesthetic foundation for her later realistic writing.
After she left the country, she started reading non-fiction works such as biographies, memoirs, news interviews, and even local records, which broadened her horizons and enriched her understanding of social and historical events.
Zhang also gave her own advice on writing: "Writing can begin at all ages. If you start when you are young, full of passion for life, your observation of the world may still be naive. But if you start at middle age, although the passion will fade away, the vision will be more open and the observations will be more mature.
"Every stage of life is beautiful, so don't be impatient for success. You need to be pragmatic, apart from the continuous accumulation of the materials needed for writing.
"Being a writer has been a dream for me since I was a child. I just did not realize that it would take so long for this dream to come true."
The Cover of A Single Swallow [Xinhua]

(Source: Xinhua/Translated and edited by Women of China)