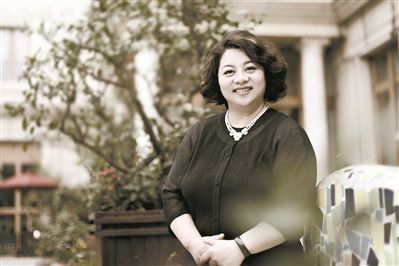 Zhang Xin [People.cn]
Female Chinese Singaporean writer Zhang Xin, whose pen name is Liu Liu, recently published her latest book Good Times and shared her insights on writing and children's education.
Since her former publications of Superwoman and Almost Truth, Zhang has fostered a writing style with a broad perspective and in-depth understanding, and kept her original faith of writing.
"Writing is a beneficial profession, which satisfies me and the readers simultaneously. I feel happy when I write, and readers feel happy while they read, it's a win-win," said Zhang.
In Zhang's view, she writes not for the sake of prestige but to record her current state of mind. Thus people should do what they are supposed to do instead of acting counter to the rules. They will feel content this way.
"You can be independent and secure if you have your own career. Women should be self-sufficient and not be afraid to put themselves first," said Zhang.
When asked about her son, Zhang said that every single parent hopes their child will walk the path they want for them and act exactly in accordance with their requirements. However, if they don't, parents should peacefully accept any undisciplined behavior and always react with empathy towards their children.
Zhang also suggested parents find their children a good mentor for guidance instead of restraining them from doing something that they disapprove of.
(Source: People.cn/Translated and edited by Women of China)