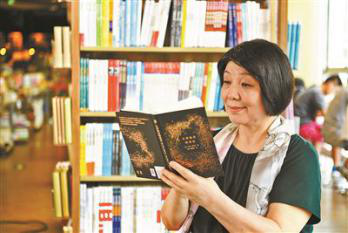 Bi Shumin reads a book. [People.cn]
Chinese female writer Bi Shumin recently published the bilingual edition of her book Tender Thistles together with famous translator Zhu Hong.
Bi, born in Yining, northwest China's Xinjiang Uygur Autonomous Region, in October 1952, is a national-class writer, physician and psychologist.
The book was specially edited by Bi and translated by Zhu, who began to follow with interest Bi's work on account of her nanny's daughter. Thanks to Zhu's tutoring, she was admitted to a university in the U.S. and recently obtained a master's degree from Columbia University. Zhu even attended her graduation ceremony.
As a doctor, psychologist and a writer, Bi thought that people often view these three professions as having little in common, but they are all a way of studying people.
Bi told the reporter that at the age of 16, she joined the army and went to the Ali Health Division in southwest China's Tibet Autonomous Region, where she experienced the most unbearable climate change and physical suffering. The sacrifice of the young soldiers made her well aware of the shortness and fragility of life. Therefore, contemplations about death, life, warmth, value and meaning are recurring themes that often appear in her works.
"I am a person who shows keen interest in people. I have a great deal of curiosity about the profoundness and the darkness of human nature, and the logic of people in doing everything. Medicine, psychology, and literature are three pearls hung on the thick necklace of humanities and science. I want to turn myself into a tough string, connecting them together," said Bi.
Being over 60, Bi feels that death is approaching, but she still has a lot to accomplish. Bi notes, "I don't often tell people that I think I am at the prime time of my life so far for fear of being taken as hypocritical, but I am. My body is still in good condition, I have fulfilled my responsibilities to my children, and I don't have to feel compelled to complete any work. But I am not afraid of death, because I have lived happily and fruitfully."
Bi revealed that she is now practicing a very healthy lifestyle, rarely stays up late and reading books is regular part of her routine. Speaking of her future plans, Bi said she does have one but prefers to keep it private for the time being.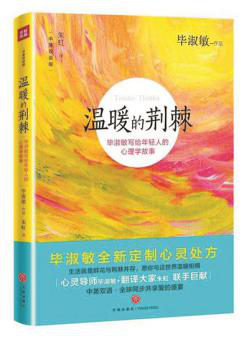 The Cover of Tender Thistles [People.cn]
(Source: People.cn/Translated and edited by Women of China)