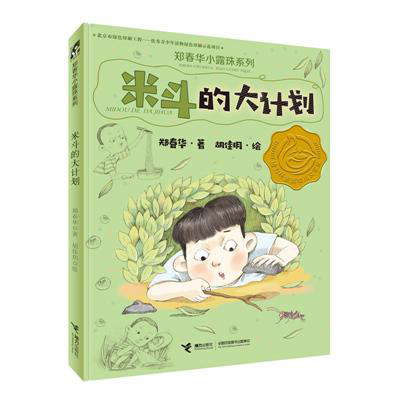 The cover of Midou's Big Plan [Youth.cn]
A famous female children's literature writer who is going to release a new book in late August spoke to interviewers recently to share her opinions on writing and children's education, according to a recent Chinese media profile.
Zheng Chunhua, a famous female Chinese writer who focuses on children's literature, is soon to release her new book Midou's Big Plan in late August.
The new book tells a story that seems not so perfect — Midou, the protagonist, loses his dad.
In the 1980s and 1990s, children's literature was predominantly about maternal love. Zheng, however, was sensitive to the importance of fatherly love to children, especially for the only child in the family, the father assumes the dual role of parent and partner. Zheng therefore created The Big Headed Son and Little Headed Father.
"Not every child can have such a perfect childhood like that in my previous books," said Zheng.
Zheng was told by her daughter that one of her classmates at elementary school had lost her father.
Zheng felt so sorry for the child and kept thinking: Are young children left with nothing but grief after the loss of their father or mother? How do they cope with their later growth and how do they cope with their grief?
Therefore, Zheng focused her thoughts on a father's company in life rather than the sorrow after his death, and wrote this new book.
Zheng participated in her daughter's kindergarten graduation ceremony, where she detected a young boy crying. Although she didn't know what he was crying for, Zheng thought of children who lost their parents. Children could not express themselves like adults, but their inner pressure was no less than that adults suffer.
Such being the case, she started the story with a kindergarten graduation. Midou made several big plans in his summer vacation in first grade. He wanted to do things like cutting his hair, catching crickets, making sedge cucumber and noodles, all things that he used to do with his father.
According to Zheng, a child's memory of a person is actually a memory of the person's deeds. A warm and loving past will turn into a kind of power and accompany living people to move on.
What Midou and his father have done together, as the years go by, gradually emerges from his soft tears, and lets him live, learn, and grow up.
"I don't want to focus on tears and pain too much. I am not writing a textbook, but I hope that adults do not judge children according to their own experiences, and understand that children have their own way to resolve their grief," Zheng explained.
Midou closed his eyes and said softly in his heart, "Good night, Mom. Good night, Dad," at the end of the book.
This ending was added by Zheng when she revised her first draft.
"The ending indicates that Midou has gradually come out of the grief of bereavement. His understanding of his father is no longer confined to the one-to-one level, but the integrity of a family and a great tolerance," Zheng said.
The new book is the third in Zheng's "little dewdrop series" which focuses on the neglected children in society, whose families are often less than perfect.
Rourou, whose parents got divorced, in A Sister and Two Younger Brothers, is part of a story centered around the emotional bond of two reorganized families; Yazhong and Yachuan depicts the friendship and conflicts between the children of migrant workers and urban children in cities; and, Midou's Big Plan is about a boy who lost a parent growing up.
According to Zheng, the fourth book of the series will tell the story of a girl with a mental disability.
In Zheng's works, any subject about children can be written. The key is how to express it.
"Even if it is a sad or gloomy subject matter, you can write a good story by choosing language that children can accept and expressions that can evoke an emotional resonance," Zheng said.
For child readers, reading books about reality can help them better understand different circumstances in real life.
"You can't just give kids sweet food as sour, sweet, bitter and spicy are all part of life. Even if they have no such personal experience, they should read various sorts of stories so that they might be better prepared to deal with difficult problems someday in the future," Zheng added.
(Source: Youth.cn/Translated and edited by Women of China)