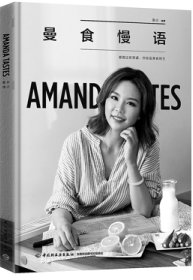 The cover of the book [China Daily]
When, on May 16, 2013, Li Ruowen uploaded her first cooking video on YouTube — a video of her making white asparagus wrapped with Italian ham — she had little inkling how it would shape her life. Since then her hobby has grown into a lucrative career.
Known on the internet by her pseudonym, Amanda, Li now has accumulated more than 10 million followers across numerous social media platforms.
This month, after four years of preparation, Li launched her first cookbook, Amanda Tastes, which has 94 of her recipes for preparing meat, vegetables, seafood, baked goods, sauces, snacks and desserts.
Part of that preparation included translating Tamar Adler's book, An Everlasting Meal: Cooking with Economy and Grace, before publishing her own guide to cooking.
"The theme of my first cookbook is homemade dishes," explains Li, adding: "I hope my readers can find inspiration for their daily meals and enjoy cooking them."
Li doesn't stick to traditional cooking methods and ingredients, always looking for the easiest way to make a dish, so that her audience can easily replicate her recipe.
"I'm not a professional chef. If I want to figure out how to make a new dish, I'll just try as many times as necessary until I'm finally satisfied with it," Li notes.
As a science student, Li treats her cooking almost like a science experiment, using logic to create her dish. "Cooking is like a chemical reaction," says Li.
"Take baking for example, for a cake to be successfully made, you have to have three elements in harmony with one another-the weight of flour, the consistency of the beaten eggs and the temperature of the oven."
To understand the balance, Li would experiment by controlling two of the elements and changing the third to work out the best resolution.
"Each dish in the book is designed like that, from the measurement of each ingredient to the balancing of the flavor-even the success rate of the recipe-everything is carefully considered," says Li.
In the book, Li provides as detailed a recipe as possible and, at some key step, she will also add an explanation for "why we should do this and what will happen if we don't".
"I hope readers are not just learning how to replicate a dish, but by working through the book, they begin to understand the knowledge of hierarchy in cooking," says Li.
She had to figure it out herself in a 2-square-meter kitchen when she was working in England back in 2010. It was there that she started her cooking blog "Amanda's small kitchen", sharing her experience of making homemade dishes.
"It was not actually a real kitchen," Li recalls, "it was actually transformed from an aisle between the bedroom and the living room."
Li bought a camera to take photos of her cooking to share on her blog, but in 2013, she started to learn how to make videos using the camera.
After uploading a dozen cooking videos, Li saw an uptick in the number of people following her and reading her blog. She named her show man shi man yu — "the first 'man' is from my English name, Amanda, and the second 'man' means slowly in Chinese, which refers to the fact that I talk slowly on my show," Li explains.
Li went to England in 2006, from her hometown in Hubei province, to study. Ten years later, she moved to Shanghai to start her own team and to focus on making her show.
"Life abroad is the same all year round, but China is changing every day, and most of my audience is in China, so I decided to move back to my country," Li says.
"Now for each new dish on my show, I practice many times until I figure out the recipe and then take a whole day to shoot, followed by one day of editing. After it is posted, I'll communicate with my audience on social media to answer questions," says Li.
In her new book, she adds a QR code for each recipe which, once scanned, will bring up a video of her cooking the dish.
"The kitchen is the most incredible space to me, and the process of cooking is something every foodie should explore," says Li.
(Source: China Daily)