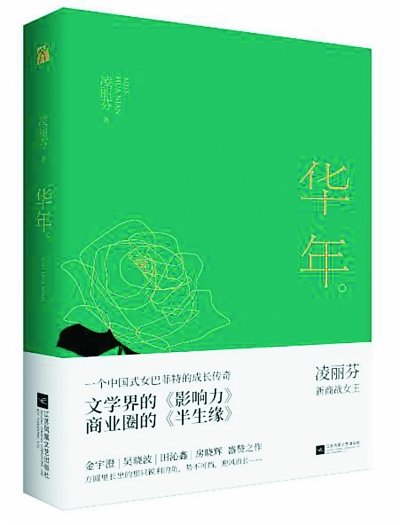 The cover of Hua Nian, Ling Lifen's new novel [Xinhua]
Young female author Ling Lifen recently won the Suishi New Woman Writers Award for her contemporary novel Hua Nian.
Hua Nian describes the city life of the main protagonist in a realist style. This is one of the most important veins in serious literature among young writers today, according to critics.
In Ling's book, she describes Shanghai as a multifaceted complex city with 20 million people, who are leading lives in their own way.
In her view, this is a Shanghai that sometimes displays human kindness in its earnest but may also show little sense of justice at other times.
Her modern Chinese metropolis is diversified and inclusive, but at the same time full of estrangement and strangeness.
She writes about the different destinies that people from the younger generations have when they go to these cities to fight for a better life.
Hua Nian, the eponymous heroine of the novel, works at a TV station in her hometown upon graduation from college. She finds her life easy but boring.
Therefore, when she sees her friends in the big city, she has an idea to move there and choose her own way of life as well.
Many young people yearn for a life in big cities for the same reasons. Instead of living under the protection of their families, they want to realize their personal value in life independently and thereby finding the meaning of their own existence.
As Ye Kuangzheng, a literary critic and poet, commented, Hua Nian is a history of the spiritual growth of a businesswoman as well as an urban woman. The book features commercial struggles, suffering, power scheme and death. But above all, what we can perceive the most is nothing but the power of love and life.
More than 10 years of business experience enabled Ling to accumulate plenty of source materials and apply them to her book.
Fang Xiaohui, a professor at the business school of Stockholm University, thinks the book deserves careful study by scholars interested in Chinese business culture.
When asked about why she chose the story, Ling replied: "This is the life of each of us. It may touch the most female readers who are in their 20s and 30s."
"The impacts of the macro-environment on the life of an individual are more appealing to me. In fact, many good literary works in the world are written in conjunction with the economic environment. The heroine's several changes in both work and life are closely related to economic changes in the great times," Ling added.
(Source: Xinhua/Translated and edited by Women of China)