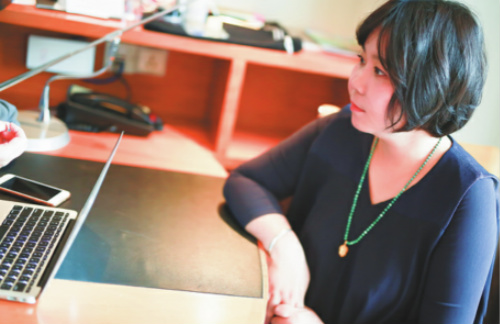 Writer Ding Mo gives free rein to wild ideas, in preparation for her next suspense, romance novel. [China Daily]
For someone who started writing as a hobby, Ding Mo (pen name) has done pretty well for herself. She is now in the spotlight as a 50-episode TV series, Our Glamorous Time, based on her novel of the same name, is being aired on Zhejiang TV and Dragon TV, and is being discussed on Sina Weibo, China's Twitter-like platform.
The series features a love story between white-collar designer Lin Qian (played by actress Zhao Liying) and a former soldier Li Zhicheng (played by actor Jin Han) who becomes a CEO, and how the two work together to take their company to success.
Surprisingly, though she is the author of the book on which the series is based, she is clueless about how the plot unfolds in the series. She says she sits each night in front of the television to follow the story.
"I haven't seen the script, so what I know about the story is the same as any ordinary viewer," she says. "I totally understand that books and TV series are two different artistic expressions, and I respect the scriptwriter's adaptation and re-creation."
The book on which the series is based is her fourth novel that has been adapted into a TV series after Love Me If You Dare, When a Snail Falls in Love and Memory Lost that all sparked discussions on social media.
She is unfazed by the feedback on the TV series based on her works, saying: "I learned from Louis Cha's novels to see the world in a more comprehensive way that is not just black or white."
Her novels focus more on logical deduction and the integrity of the story structure, which she says are influenced by the late martial arts novelist's works.
"I started to read Cha's novels when I was in elementary school.
"My mom wouldn't let me read them at night, so I would hide under my quilt and read using a torch."
As for her other online works, she has published a dozen love stories spanning suspense, science fiction and business since 2005.
Writing turned from a hobby into a career over the past decade for her, who was born and raised in Huaihua, Central China's Hunan province. In 2001, she went to Peking University to study structural engineering. After graduation, she took up a human resources consulting job, while writing stories online in her spare time.
"I was so excited when I first started to write. It was like going into my own little world each day after work, and I would write about 3,000 words and post online, and see the comments before going to bed," says she.
In 2012, she decided to quit her job and take up writing seriously.
"I'm a science graduate. So, after analyzing the subscriptions and clicks for my online novels, I thought it was time to try to write full time," she explains. "And I'd saved up so that I could support myself without any income for six months."
Soon after her career change, her stories began to gain more attention online and from publishers, so she stuck to writing instead of going back to a nine-to-five job.
Before 2012, she had only one book published, but now that most of her stories are in print she is modifying her writing style accordingly.
"When you write online stories you need to update daily, and you have to leave some suspense at the end of each chapter. These are some of the tricks you have to use. And readers' feedback can influence your writing," she says. "But when you write a book you have to think of the whole story and create your own rhythm."
She also says in recent years, the boundary between an online novelist and a published writer has blurred.
She feels a close bond with her online readers, so she continues to post her complete stories online. "I enjoy communicating with my readers."
She moved to Wuhan in neighboring Hubei province in 2013 and spent three years there. So the stories she wrote during that time are all set in Wuhan. In 2017, she moved to Dali in Southwest China's Yunnan province for half a year before moving back to Hunan, so she wrote a story based in Dali.
She says many of her stories are based on real-life incidents such as a drug case in Love Me If You Dare in which her characters had different reasons for their addiction.
Most of her books are published in Hong Kong and Taiwan in traditional Chinese along with a simplified Chinese version for the mainland.
Her books are also translated and published in Thailand, Vietnam and South Korea.
"The readers from abroad sometimes leave a message on my Sina Weibo, and I'm glad they like my stories," she says.
Her other works are also attracting TV producers.
"Like all authors, I hope my novels can be made into films or a TV series, but that will not be my primary goal," she says.
For now, she is slowing down her pace of writing to maintain the quality of her work.
"In recent years I have been writing only one or two books a year, and I read dozens of books in between."
She is planning her next book.
"I haven't written a suspense love story in a while. I felt the itch, so I've already started reading ancient detective stories for inspiration."
(Source: China Daily)