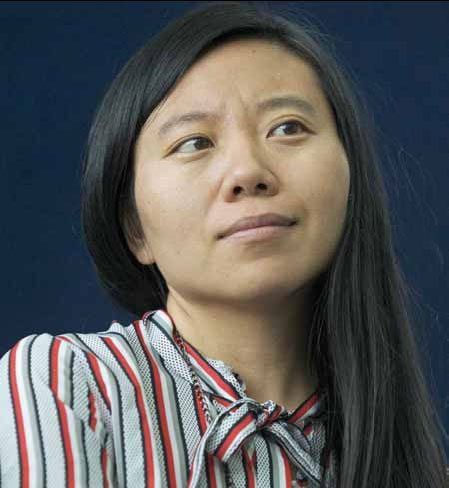 Guo Xiaolu [Photo provided to China Daily]
A Chinese writer and filmmaker based in London has been named one of the judges of the 2019 Man Booker Prize for Fiction.
Guo Xiaolu, who was named one of Granta's best young British novelists in 2013 and who has been shortlisted for the Orange prize, will be among a panel of judges chaired by Peter Florence, director of the Hay Festival.
Former fiction publisher and editor Liz Calder, writer and broadcaster Afua Hirsch, and pianist and composer Joanna MacGregor make up the rest of the panel.
Guo's works include her memoir Once Upon a Time in the East, which was shortlisted for the Royal Society of Literature Ondaatje Award, the Folio Prize, and the Costa Award, and which won the National Book Critics Circle Award in 2017.
She also wrote A Concise Chinese-English Dictionary for Lovers, which tells the story of Z, a Chinese student, and her encounters in London and inner journey of self-discovery. It was shortlisted for the 2007 Orange Prize for Fiction. Her other novels include Village of Stone and I am China.
Guo was born in Southeast China in 1973 and grew up in a fishing village before going on to study film at Beijing Film Academy and the UK National Film and TV School.
She has lived in London since 2002.
Guo has also directed several feature films, including How Is Your Fish Today, UFO In Her Eyes and She, A Chinese.
Her documentaries include Five Men and a Caravaggio, which premiered at the BFI London Film Festival 2018. She teaches creative writing in London and filmmaking in Berlin.
The Man Booker Prize for Fiction judging panel will look for the best work of long-form fiction, selected from entries published in the UK between Oct 1, 2018 and Sept 30, 2019.
Gaby Wood, literary director of the Booker Prize Foundation, said: "The collective brainpower and creative spirit of this year's panel is stunning, and the judges' commitment to high-quality literature is boundless. I'm looking forward to seeing this varied group in action, and to hearing the ways in which their private reading will become a public act, bringing great books to the notice of others."
The 2018 Man Booker Prize for Fiction winner was Milkman by Anna Burns.
(Source: China Daily)