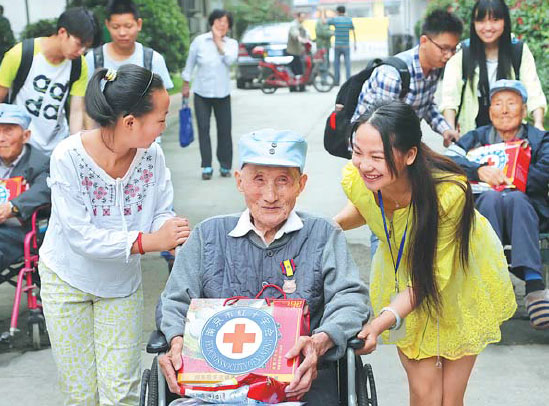 Yang Yashu (right), a winner of the 2016 10 People Touching Dezhou awards, along with other volunteers, visits war veterans at a nursing home in Nanjing, Jiangsu Province. [China Daily]
Yang Yashu, a student at Beijing Foreign Studies University, was announced as one of the winners at the 2016 10 People Touching Dezhou awards held in Shandong Province on March 7, recognizing her as one of the city's top 10 inspiring role models.
The 20-year-old was honored for her years of volunteer work throughout China, which has seen her help both impoverished children and aging parents who have lost their only child.
Yang has been helping the needy since she was at high school, where she donated money earned in her spare time to good causes.
In 2014, Yang launched a charity fund for orphans and handicapped children at Nanjing's red cross foundation and charity federation, with the help of several local philanthropists, such as entrepreneur Tian Yuan and Chairman of Jinling Chamber of Commerce Jin Wei.
The fund has helped many impoverished families and has become increasingly well-known and influential throughout China.
In the same year, Yang also established a public welfare center in the city to further spread the idea of love and charity. The center has, to date, attracted more than 70 registered volunteers from more than 10 cities and regions across China.
On March 23, Yang set up Dezhou's first charity fund to aid orphans in the city.
Yang said she is simply following in the footsteps of her adoptive father Shao Jianbo, and that she has been inspired by his devotion to both public welfare and charitable causes.
Shao has also provided a very personal and direct source of inspiration for Yang.
Born in Wenchuan in Sichuan province, Yang is no stranger to the difficulties life can throw at a person. She was forced to drop out of primary school due to her family's financial circumstances, and more tragically, she was orphaned following the catastrophic Wenchuan earthquake that struck in 2008.
Shao, an entrepreneur who runs businesses in several cities including Dezhou, Nanjing and Beijing, subsequently adopted Yang and supported her to continue her education.
His kindness and generosity inspired Yang to help other people hit by unfortunate or tragic circumstances.
Shao, born in 1965, is also a philanthropist. Over the past three decades, he has offered volunteer services to the elderly, aging military personnel and handicapped children throughout the country during holidays and festivals.
He has also donated both money and goods using a number of assumed identities, including Qizhi Ge (Flag Brother in English) and Meili Zhongguo (Beautiful China).
Shao started his first charity at the age of 19, when, using money he had earned, he sponsored a student who had lost both arms to finish school.
Many people's lives have been changed for the better due to Shao's efforts. He had helped more than 2,000 people by 2008, among whom around 90 went on to become millionaires and four achieved multimillionaire status.
Shao has won numerous awards, including the Jiangsu Philanthropy Award and the Good Person of China Award. He was also among the winners at the 10 People Touching Dezhou awards in 2015.
(Source: China Daily)