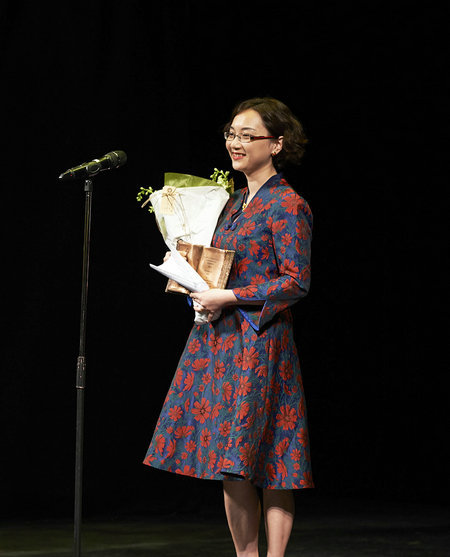 Li Wenjie, a scholar of Guangdong University of Foreign Studies. [gdufs.edu.cn]
While pieces like The Little Match Girl and The Emperor's New Clothes by Hans Christian Andersen are all too familiar to Chinese families, the translation and understanding of the Danish writer's fairy tales has evolved in stages in the past century.
Li Wenjie, a Yunshan Youth Scholar of Guangdong University of Foreign Studies, received the Hans Christian Andersen Award in April for her research into the Chinese translation and dissemination of Andersen's fairy tales, following Chinese scholars Lin Hua, who received the award in 1997, and Shi Qin'e in 2006. Lin and Shi both translated Andersen's fairy tales.
Founded in 1996 to mark outstanding research and promotion of Andersen's works, the award has been presented to about 60 individuals and organizations from 18 countries and regions.
Li's interest in Andersen's fairy tales was triggered when she attended a Danish language school in Copenhagen eight years ago.
"In the Danish language class, I read again several Andersen's fairy tales, including The Little Match Girl, which was widely read in China. The language and the way the teacher guided in reading were both somewhat different from the Chinese version and how my Chinese teacher interpreted it in primary school.
"I started to think about the Chinese translation of Andersen's fairy tales and what happened during the dissemination of those fairy tales in China and what factors affected the process," Li says.
The translation and introduction of Andersen's fairy tales was initiated by some members of the Literary Research Society, which was founded in 1921, and some intellectuals in China who led the New Culture Movement.
The initial translation was recommended as outstanding literary work for Chinese writers to study.
With more efforts in the translation afterward, the fairy tales gained recognition and acclaim among ordinary readers and children, Li says.
Chinese versions of Andersen's fairy tales designed for young readers appeared in the early 1930s. Starting in late 1930s when the country was in turmoil, however, such Western fairy tales drew skepticism, seen by some critics as distant from the real society and preventing children from taking up their responsibilities for the country.
In the 1950s, under the influence of the literature of the former Soviet Union and the literary theory with a historical-materialism approach, Andersen was being interpreted as a realism or even critical-realism writer and speaking for the poor. "The emperor's new clothes" and "the ugly duckling" even became household colloquial phrases thanks to textbooks of that time.
After the reform and opening-up of China in the late 1970s, Andersen's fairy tales were retranslated by many and were enthusiastically received by Chinese readers in the 1980s.
"Andersen has remained one of the rather few Western writers to maintain and even increase his popularity among Chinese readers to such degree that today, many Chinese may actually have a better knowledge of Andersen than most of his compatriots," Eric Messerchmidt, director of Danish Cultural Center in China, said in his congratulatory speech on the presentation of the award to Li.
"The Chinese reading of Andersen has grown completely independent of his native Danish setting-due to our different social and historic conditions."
Li's examination of a wide range of translations documents the challenging task of bringing relevance and meaning into the context of the times they belong to. She opens people's eyes to how the linguistic subtleties of Andersen's universe have been transformed into the subtleties of Mandarin and the subtleties of Chinese thinking without diluting their artistic uniqueness, Messerchmidt says.
Chinese research into Andersen has yet to extend into his other literary works, especially his travel notes, which would help people better understand his fairy tales. The interpretation of Andersen's fairy tales needs to be enriched and broadened, Li says, adding that she plans to continue her research in this field.
Huang Zehui contributed to this story.
(Source: China Daily)