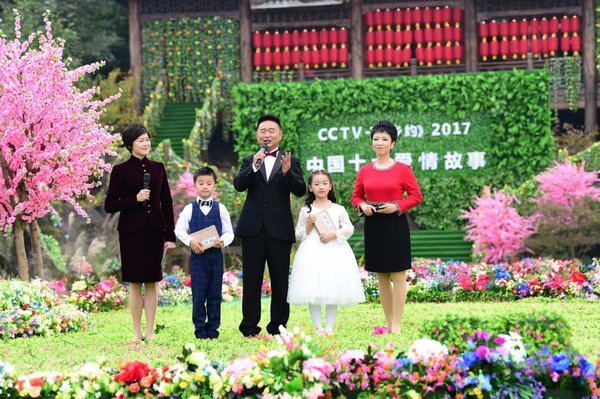 Three TV hosts and two children at the awards ceremony [cctv.com]
An awards ceremony to release 10 touching love stories took place in a well-known scenic spot of Shilin, southwest China's Chongqing Municipality, to carry forward a positive outlook on love and marriage among people nationwide.
The awards ceremony was jointly held by the state broadcaster CCTV-7 agricultural channel; the Publicity Department of the All-China Women's Federation (ACWF); the Youth Development Department of the Communist Youth League Central Committee; China Women's News; and, Chongqing-based Wansheng Economic and Technological Development Zone.
Famous female TV hosts Jing Yidan and Huang Wei, along with male TV anchor Xiao Dongpo, hosted the event.
Accordingly, most of these honored households have won honorary titles such as National Civilized Family.
The ceremony will be aired on CCTV-7 on December 31.
Let's take a look at the 10 awarded families' touching and romantic love stories.
1. A couple from Chongqing
Cheng Yusi and Che Yun opened a special bookstore on a high mountain in their hometown on May 20, 2016, after giving up well-paid jobs in the city of Shenzhen, south China's Guangdong Province.
To run a unique bookstore, they have conducted many investigations across the country.
Everything was done by themselves including the design and reconstruction of the old building.
This year, they tied the knot in their bookstore. The couple said they will try their best to develop their career and promote the cultural life in Chongqing.
2. A couple from northwest China's Shaanxi Province
Wang Hui and his wife Ma Guixia were middle school classmates. When they took a group photo for middle school graduation in June 1964, Wang gave a pen to Ma as a gift. At that time, Wang fell in love with Ma.
Later, they got married and Wang worked in wheat breeding. Over the past four decades, Wang has cultivated more than 12 new wheat varieties. Therefore, he was recognized as the Advanced Worker in Shaanxi and he has also won many other honorary titles. Ma has given Wang strong support in life.
3. A couple from central China's Hunan Province
Judge Zeng Lingchao lost his sight in an explosion when he fought with a gangster, which made him have difficulty taking care of himself. Back then, his wife Jiang Mei was a primary school teacher and she fulfilled her responsibility of attending to him and his every need without complaint over the years.
When Zeng told her that he had a desire for writing, Jiang gave him her full support. From then on, she identified each word her wrote and helped him write manuscripts. Meanwhile, she has persisted in reading books for her husband every day.
Their hard work paid off, and Zeng has published around 11 works, totaling more than 3 million words. He also won lots of literary prizes, becoming a national top writer with vision impairment.
4. A couple from central China's Henan Province
Wu Xinfen often wrote consolation letters to officers and soldiers stationed in frontier defense during her time at university. By accident, she started communicating with Wang Junjing, a solider, through letters. With time, they gradually developed a close relationship.
However, Wang was badly hurt by a high-voltage line and lost both his arms when taking part in a mission. Meanwhile, his left leg was left permanently bent.
Despite Wang's poor health condition, Wu's deep and genuine love for him never wavered. On the contrary, she has dedicated herself to taking good care of him. In 2002, they tied the knot. In order to cook nutritional meals for her husband, Wu collects and sells unused items and she works hard on farmland every day.
5. A couple from north China's Hebei Province
The love story of Zhao Keke and Liu Junlan is legendary. They fell in love at first sight and got married the second time they met.
Since 2013, the couple have devoted themselves to the protection and maintenance of tens of kilometers of oil pipeline and the inspection of around 700 mu (47 hectares) of forest.
6. A couple from south China's Guangdong Province
Dong Shumeng and Xu Na majored in medicine when they were college students. After graduating from university in 2004, they gave up secure and well-paid jobs in cities and chose to work at an old hospital for leprosy patients located in the deep mountains.
In 2006, they held a wedding ceremony in their workplace and settled down at the village.
7. A couple from Chongqing
Qiu Xiaomin, a primary school teacher, was diagnosed with nose cancer before marriage in 2004. She didn't want to get married with Wu Tinghe, her fiance, and gave up receiving treatment.
Wu,also a primary school teacher, refused to leave her and tried his best to raise money for her medical fees.
Over the past few years, Wu has given his considerate care to Qiu when she has been hospitalized. Last year, Qiu underwent her third surgery and has recovered.
They got married this year and made a promise to accompany each other throughout their lives.
8. A couple from Guangdong
Li Chuansheng, 69, a retired soldier, fell into a coma after falling from a ladder at home four years ago. His wife Zheng Li sang songs for him day and night, striving to get a response from him.
The woman met her husband when they were in the army in the 70s.
To help the man "retrieve his lost memory", Zheng has kept many things used by them in the military in their daily life. It seems that their love remains at the most beautiful time in their life.
9. A couple from south China's Guangxi Zhuang Autonomous Region
Wang Fang gave birth to twin daughters 26 years ago, one of whom was diagnosed with cerebral palsy. After her divorce, she spent nearly eight years seeking treatment of her daughter's illness. Nevertheless, modern medicine methods cannot cure the disease at present.
Li Lüjiang is a journalist who has thrown himself into public welfare undertakings. Under Li's assistance, Wang founded the first private charitable organization in Guangxi to provide rehabilitation, education, social guidance and occupational training for children with cerebral palsy.
Due to sharing a common belief, Wang and Li established a new family. Over the past 15 years, they have helped more than 5,000 children with cerebral palsy.
10. A couple from northeast China's Jilin Province
Zhang Baoyan and her husband Qin Yanyou started a website called Baobeihuijia (Baby Back Home) in 2007, after they found their missing son.
The website aims to help children who are homeless, abandoned or abducted to return home. To date, more than 2,000 youngsters have reunited with their families under the couple's help.
Famous TV host Jing Yidan (R) and two attendees [cctv.com]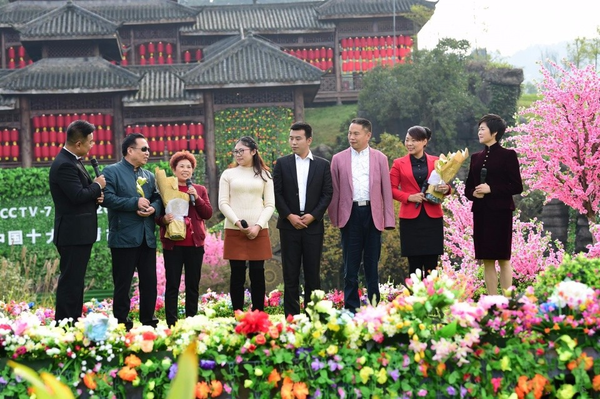 Attendees at the event [cctv.com]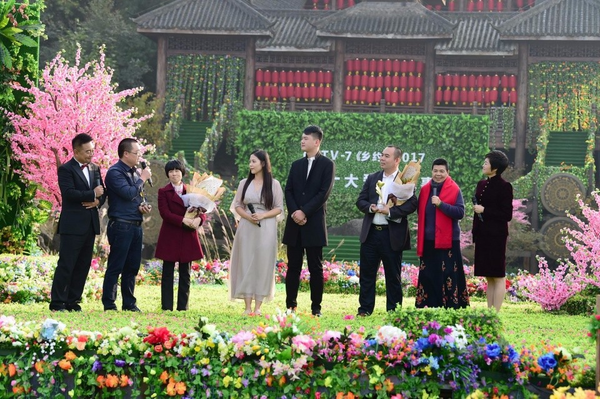 Attendees at the event [cctv.com]
(Source: cctv.com/Translated and edited by Women of China)