Deng Li (L2), vice-president and member of the Secretariat of the ACWF and Zhao Guanjun (R1), chief editor of China Philanthropy Times, Gangzi (L1), founder of Gang Si Charitable Organization of the OCCFC, along with Qiao Wei (R2), vice-president of the Overseas Chinese Charity Foundation of China at the event. [Women of China/Fan Wenjun]
The China Children and Teenagers' Foundation (CCTF) and the Overseas Chinese Charity Foundation of China (OCCFC) signed a strategic cooperation agreement on April 14 in Beijing to jointly promote a public welfare project.
The project aims to encourage local residents to lead an eco-friendly lifestyle by donating their old or unwanted clothes to charity.
Staff will set up special collection boxes in local communities. Good quality items will be donated to impoverished children after being cleaned and disinfected. Unsuitable clothes will be processed and remade into new products.
The scheme is also supported by the All-China Women's Federation (ACWF) and the All-China Federation of Returned Overseas Chinese (ACFROC).
The project is an opportunity for CCTF and OCCFC to share resources and advance the development of the country's charity undertakings, according to a statement.
The initiative takes its lead from the latest remarks of President Xi Jinping on charities closely connecting with members of the public and helping them solve their actual needs wholeheartedly.
According to plans, the OCCFC's Gang Si Charitable Organization will take responsibility for the operation and implementation of the scheme, and organize vehicles to deliver donated clothes to disadvantaged people.
During the signing ceremony, Qiao Wei, vice-president of the ACFROC, made a speech. Qiao said the ACFROC supports cooperation between CCTF and OCCFC, and believes they will jointly carry forward innovations in public welfare undertakings.
In addition, Qiao urged Gang Si Charitable Organization to make persistent efforts to organize and implement the project to ensure it achieves its anticipated results.
Deng Li, vice-president and member of the Secretariat of ACWF and Zhao Guanjuan, chief editor of China Philanthropy Times, along with Qiao, helped deliver donations and items worth of 7,000,000 yuan (U.S.$ 1,016,924) and 500,000 items of clothes to the vehicles on behalf of the two foundations.
At the ceremony, Zhu Xisheng, secretary-general of the CCTF, gave an introduction to the scheme. Zhu expressed his hope that both sides can make the most of their advantages and the mobile volunteers of Gang Si Charitable Organization of OCCFC to quickly promote the scheme nationwide.
Furthermore, Zhu maintained at least 20,000 collection boxes will be installed this year, assisting more than 20,000 impoverished women in their employment.
Gangzi, founder of Gang Si Charitable Organization, stated he will play an active role in carrying out the scheme using previous experience, advocating the public to care more about living a green lifestyle.
Aside from this, helping disadvantaged people increase their incomes through selling local specialties on e-commerce platforms is also mentioned by the founder.
After the ceremony, the caring vehicles departed from Beijing to around 28 provinces, municipalities and autonomous regions across the country, presenting donations totaling 10 million yuan (U.S.$ 1,452,749) to some 100,000 impoverished children and families.
It is estimated that the vehicles will cover over 50,000 kilometers and all the work is expected to be done before or after the Spring Festival 2018.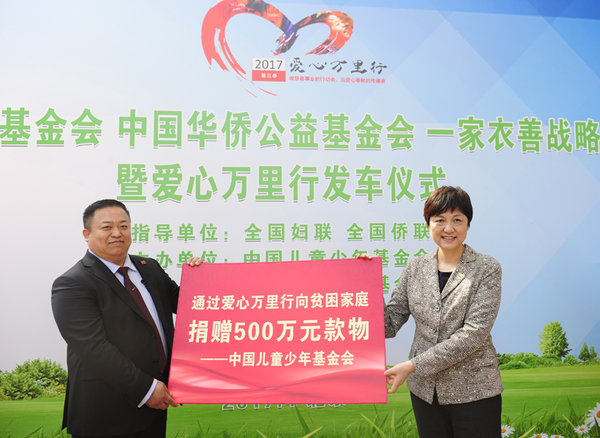 Deng Li receives donations on behalf of the ACWF. [Women of China/Fan Wenjun]
Zhu Xisheng (L) and He Jining (R), secretary-general of the OCCFC, sign a cooperation agreement. [Women of China/Fan Wenjun]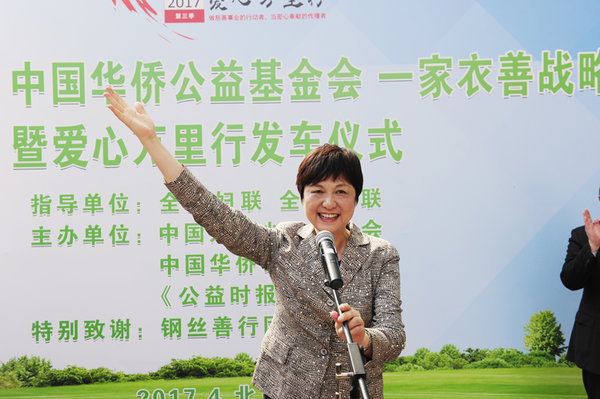 Deng announces the departure of the vehicles. [Women of China/Fan Wenjun]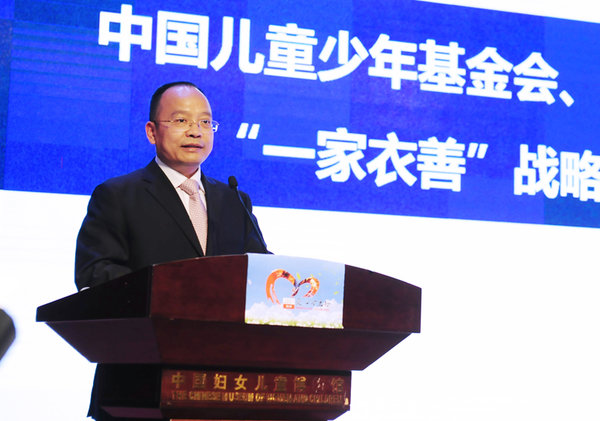 Zhu Xisheng, secretary-general of the CCTF, introduces the project at the event. [Women of China/Fan Wenjun]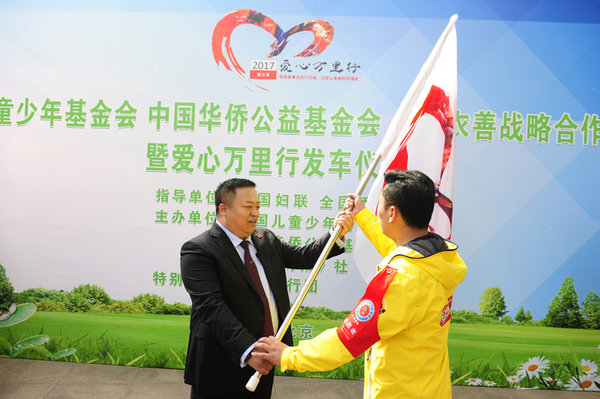 A head of the vehicle team 'takes over' the mission from Gangzi. [Women of China/Fan Wenjun]
Several vehicles are ready to leave Beijing for other cities. [Women of China/Fan Wenjun]