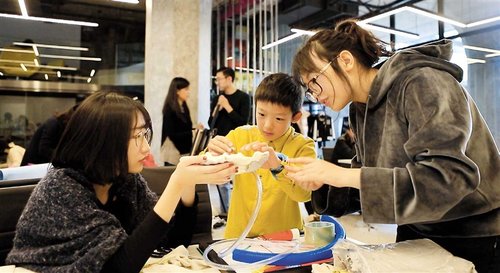 A boy works on his invention at the "Little Inventors" workshop. [Shanghai Daily]
Launched by British artist and designer Dominic Wilcox, "Little Inventors" is turning children's creative ideas into reality.
The project in collaboration with educationalists, designers and curators has been hailed by children in many countries such as the United Kingdom, the United States and Canada.
Since September, "Little Inventors" has received creative ideas and drawings from about 3,000 Chinese children. Around 100 fun ideas have been brought to life, such as a dancing hat, a youth capsule for candies and a solar-powered pan.
Through May 7 at the Shanghai Fashion Center, local children have the chance to share their latest invention drawings and ingenious ideas. Some will see their imagination turned into real objects soon.
In addition to the drawings of children, celebrated designers will also display their latest artworks and installations at the Idea Design Expo.
Artists will present design workshops for children and public lectures to arouse their creativity and passion for inventions. Families can also have fun at an interactive music carnie.
(Source: Shanghai Daily)