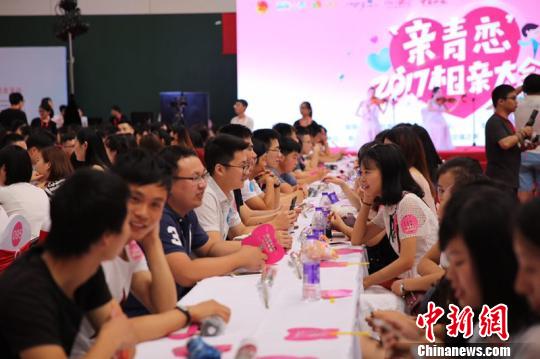 Photo shows the matchmaking party in Hangzhou. [Chinanews.com]
Are you a "single dog", "bare branch", or a "leftover man/woman" in China? Starting to lose hope of getting hitched? Well you, along with 200 million young Chinese, might just have another chance of finding a partner with the help of the Communist Youth League of China.
You heard it right. The country's revolutionary youth movement run by the Communist Party of China is stepping up and now doing its best to find you a spouse.
No surprises there, given more than 90% of women marry before 30 in China. Single at 27 and you're a "leftover woman"; single at 30 – well, you're as good as dead.
CYLC's announcement made an instant hit online. On the People's Daily's official Weibo account on the microblogging site, the story has garnered over 47,000 comments and has been shared over 50,000 times.
Looking for love
Last month, CYLC kicked off a huge blind date event in Zhejiang Province as part of its national initiative. Many of its 3.87 million local branches have also organized blind dates across the country.
"We aim to combat the single population issue. There is a large demand for partners among young people. As we now live in a highly mobile society and as young people are delaying their entry into society, this generation faces more problems in finding lovers than those from the previous generation," Wang Jun, an official with the Zhejiang CYLC, told the Global Times.
Attendees were chosen based on the recommendations of local CYLC branches. According to Wang Jun, most attendees come from government organizations, state-owned companies and colleges. These people with stable jobs, also known as the "iron rice bowl," generally have an edge in the blind dating market over those working in private companies.
Over 10,000 people looking for love showed up, but only 2,000 got the chance to meet others in the main venue.
"Correct attitude" toward love and marriage
Getting people to attend these events is no problem. The problem lies with the ever increasing gender gap in the country.
Data from the National Bureau of Statistics in 2016 showed that there were 33.59 million more men than women in China. Ladies can afford to be picky and choose a partner better off than they are, but men on the lower side of the socioeconomic ladder find marriage almost unattainable.
Women still dominate the dating scene while the country is predicted to have 30 million "leftover" men over 35 by 2030.
Aside from introducing potential partners, CYLC and other dating organizations are also trying to educate people in the "correct attitude" towards love and marriage, noting that young people now tend to hold excessively utilitarian and materialist views of marriage.
Dating experts are trying to intervene and say that marriage should not be mainly about money.
Government intervention
The persisting marriage problem in China gave rise to a now lucrative matchmaking industry.
Many residents, though, feel that the government intervention is necessary. Matchmaking companies charge thousands of yuan whereas the government platforms are free. Moreover, more people trust that the government will give them a higher chance of finding the right partner.
Official status in government sites also enables easy background checks on people.
CYLC, for example, is able to verify the information of every singleton as most of them are recommended by their local CYLC.
Although the intentions are good, the program is not without its critics.
CYLC may give one of the solutions to China's marriage problem but experts said that one problem shouldn't be overlooked: popular perceptions on love and marriage are shifting in modern China. And while many people welcome the CYLC's new role, some others may think that it cares to the point of intervening in people's private lives.
(Source: CGTN)