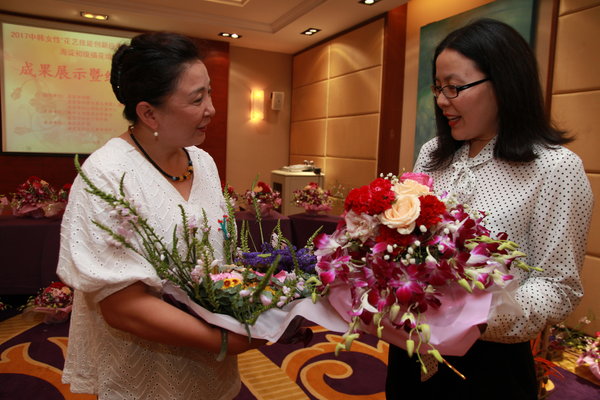 Two attendees at the training course [Women of China/Zhang Yuan]
Beijing Women's Federation held a course on flower arranging with teachers from the Republic of Korea from August 7-11, as part of a project to promote innovative skills among Chinese women.
The Flower Arrangement Innovative Application Demonstration Project has been listed as one of the city's annual personnel management programs, bringing foreign expertise into the country for four consecutive years.
Accordingly, the project has featured the skills of many internationally-recognized practitioners in the art. It also fully demonstrates the concept of environmental-protection and charity giving, according to commentators.
Organizers said attendees can give the flowers a second life by sending their works to women workers who have dedicated themselves to providing services during the summer vacation – such as medical workers, street cleaners and law officers.
The federation has vowed to continue its efforts to advance the project, helping attendees use their professional skills to promote businesses, too.
At the training, participants said they received foreign experts' guidance, broadened their international horizon and enhanced their innovative abilities.
The event was joint-organized by Beijing Foreign Experts and Foreigners Employment Affairs Center; the Sino-Korea Cultural and Economic Friendship Association; Beijing Women's International Exchange Center; Beijing Women's Cadres School; Haidian Women's Federation and the Women and Children's Activity Center in Haidian District, Beijing.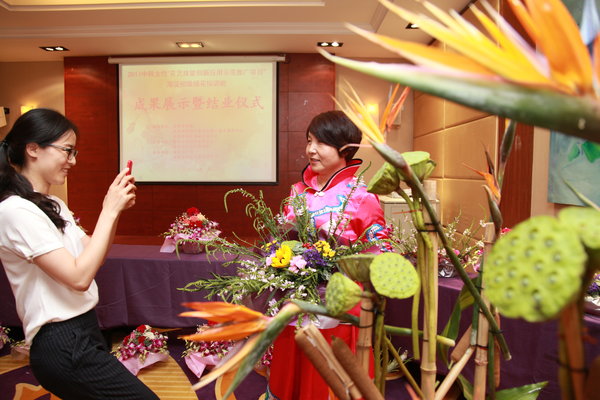 Two attendees at the training course [Women of China/Zhang Yuan]
Attendees at the event [Women of China/Zhang Yuan]
(Women of China)