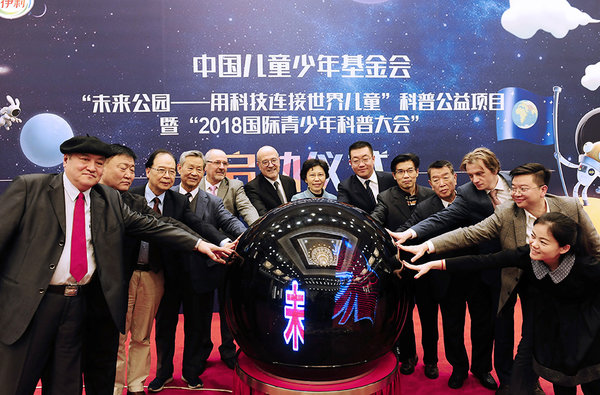 Attendees launch the project. [Women of China/Fan Wenjun]
China Children and Teenagers' Foundation (CCTF) launched a charity project on the popularization of scientific knowledge among children on December 15 in the Great Hall of the People in Beijing.
The project was co-sponsored by Yili Industrial Group Company and China Association for Promoting International Economic and Technical Cooperation (CAPC).
Organizers said that the project aims to meet the needs of science popularization among children from rural areas in China and countries along the route of the Belt and Road Initiative, by pooling resources from charities and enterprises as well as scholars and overseas institutions.
The project will play an important role in helping children develop their innovative thinking and creativity.
Luo Yan, vice-president of Yili Group, said, "By taking advantage of advanced science and technology concepts and knowledge, the project will provide a more fair and diverse platform for youngsters to help them gain the pleasure of access to science education."
At the activity, Yili Group donated 2.8 million yuan (U.S.$ 423,248) to the CCTF to support the scheme.
Accordingly, organizers will carry out a series of online and offline promotional activities. Teams composed of scientists will popularize science and technology knowledge in around 1,500 middle and primary schools and in 300 communities.
In addition, children from China and abroad will attend summer camps where they will visit scientific experience bases and attend entrepreneurship courses to enhance cultural communication.
Moreover, the activity encourages youngsters to tell stories about science through a live-stream to strengthen intercultural and cross-national communication and exchanges.
Around 200 people attended the activity, including Zhao Donghua, vice-president of the CCTF; Yang Chunguang, president of the CAPC; and, Zhu Xisheng, secretary-general of the CCTF.
Other attendees included Du Xiangwan, vice-president of the Chinese Academy of Engineering; Liu Changming, academician of Chinese Academy of Sciences; Xu Yingjian, academician of the Royal Society of Chemistry of UK; Zou Dongtao, from the World Academy of Productivity Sciences; and, ambassadors of Germany and Albania in China as well as children from China, Australia and Germany.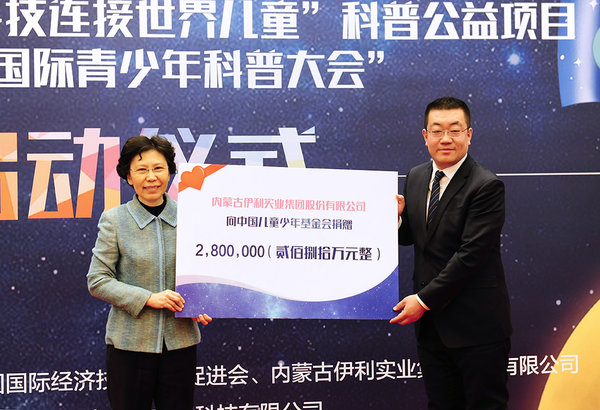 On behalf of the CCTF, Zhao Donghua (R), vice-president of the CCTF, receives a donation from Luo Yan, vice-president of Yili Group. [Women of China/Fan Wenjun]
Du Xiangwan (L), vice-president of the Chinese Academy of Engineering, presents books to Zhu Xisheng, secretary-general of the CCTF. [Women of China/Fan Wenjun]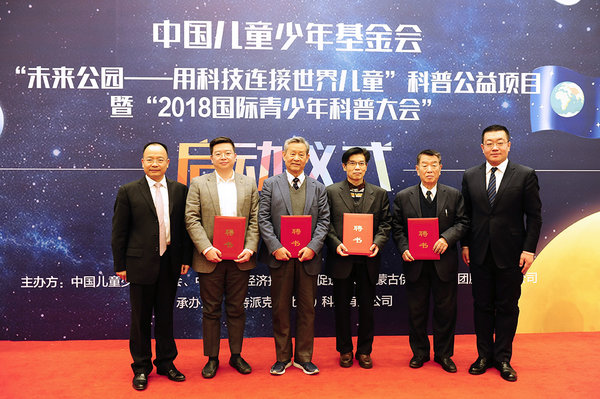 Zhu Xisheng (L1) and Luo Yan (R1) present certificates to scholars. [Women of China/Fan Wenjun]
Zhu Xisheng introduces the project. [Women of China/Fan Wenjun]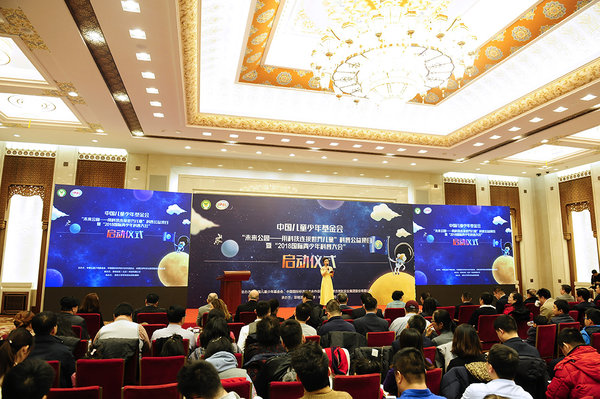 The ceremony to launch the project [Women of China/Fan Wenjun]
Xu Yingjian, academician of the Royal Society of Chemistry, interacts with children at the activity. [Women of China/Fan Wenjun]
Attendees at the activity [Women of China/Fan Wenjun]