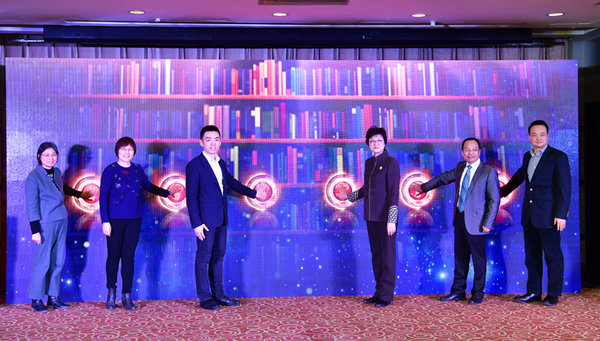 Attendees launch the reading promotion campaign at the opening ceremony. [Women of China / Fan Wenjun]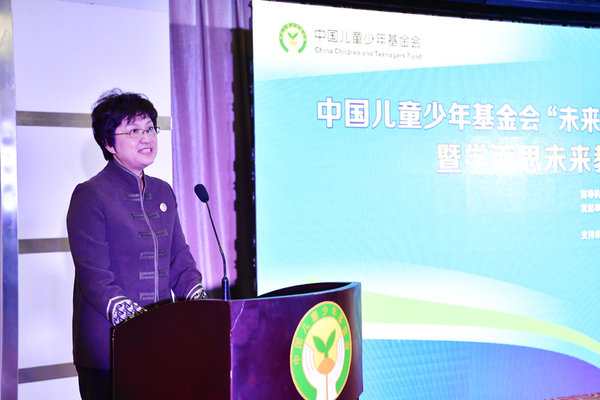 Deng Li, vice-president and member of the Secretariat of the All-China Women's Federation (ACWF), gives a speech at the event. [Women of China / Fan Wenjun]
China Children and Teenager's Fund (CCTF) and TAL Education Group jointly launched a public education campaign on January 30 aimed at encouraging parents to spend more time reading with their children.
At the launch event in Beijing, organizers released the results of the China Parent-Child Reading Report (2017).
"Reading cannot change the length of life, but it can change the width of life; reading cannot change the start of life, but it can change the end of life," quoted an official.
Deng Li, vice-president and member of the Secretariat of the All-China Women's Federation (ACWF), attended the event and gave a speech.
She said: "The program makes sense in terms of family education and children's overall healthy growth in all aspects, especially against a backdrop of more attention being paid to children's growth from the Party and country."
CCTF should consider the important points based on civilized family development highlighted by the Central Committee of the Communist Party of China, added Deng.
She insisted that officials should take advantage of programs in different places and support the organization's development based upon real demand.
CCTF should integrate resources for civilized family development to build a platform integrating government, society, and families to provide more benefits.
Officials should also carry out items effectively and help parents play the main role in family education, For example, by helping them to learn scientific ideas and methods, or influencing their children to go with good habits, deeds and examples, said Deng.
Zhu Xisheng, secretary-general of CCTF, released the report investigating reading conditions among parents with children under 12. The report surveyed 9,194 people from 31 provinces, municipalities and autonomous regions.
Statistics indicate that on average, 47 percent of children spend less than half an hour reading a day, and only 12.8 percent spend over an hour. Meanwhile, their reading ability increases with the quantity, which can also contribute to relative better test scores.
Most families are willing to spend time reading with their children but without any actual actions, and 40.3 percent of the parents know about co-reading without real participation.
Zhu Xisheng releases the 'China Parent-Child Co-Reading Report (2017)' at the event.[Women of China / Fan Wenjun]
Bai Yunfeng, president of TAL Education Group, said the company has long been contributing to better study experiences integrating technology and education, and will donate 15 million yuan (U.S.$ 2.38 million) to the plan.
Organizers expect to spend five years building a family education platform with parents, children, experts and volunteers.
They also hope to initiate a parent-child reading survey, storytelling contests, parent-child reading rooms, and lectures from experts.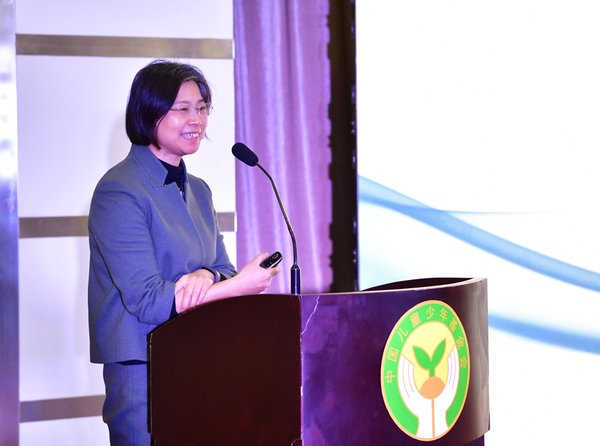 Bian Yufang gives a speech. [Women of China / Fan Wenjun]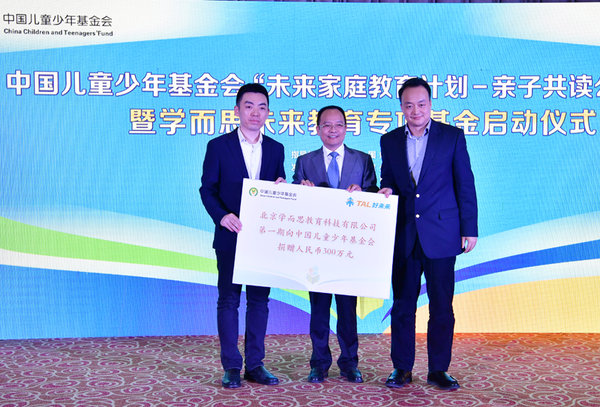 TAL Education Group presents a donation to CCTF. [Women of China / Fan Wenjun]
Other attendees included Wan Yiting, vice-president of TAL Education Group, and Professor Bian Yufang, director of the Mental Health and Education Research Institute of Beijing Normal University, among others.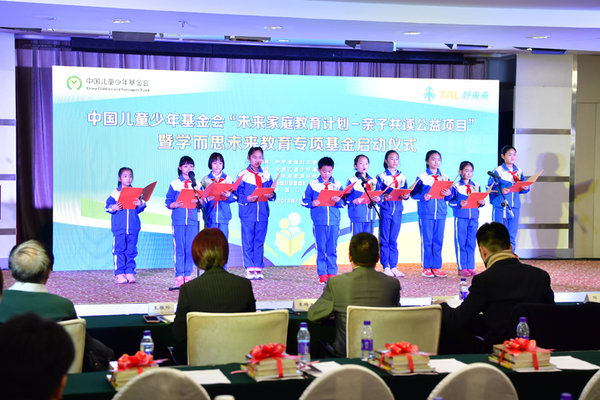 Students perform a recital at the event. [Women of China / Fan Wenjun]