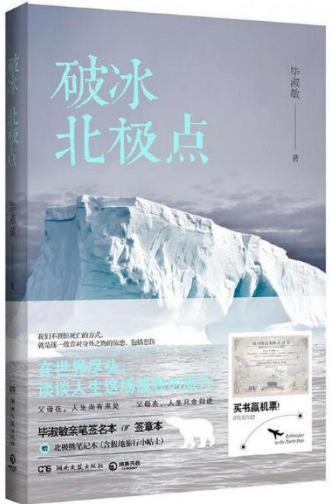 Cover of the book 'Icebreaker to the North Pole' [dangdang.com]
Icebreaker to the North Pole is a new book by renowned Chinese writer Bi Shumin. It recounts her adventurous trip to the Arctic last year on the world's largest nuclear-powered icebreaker.
Yearning for the North Pole, she always heard about it when she was young and in the army. Bi, now in her 60s, has finally realized the ambition to see it for herself.
"This dream was hidden in my heart for nearly half a century. It gradually became dusty, but it never disappeared."
So far, Bi has traveled to 73 countries worldwide. Aside from the North Pole, she made a trip to Easter Island, which is around 3,700 kilometers off the western coast of Chile. In the same year, she went to the South Pole.
As an author who shows a keen interest in travel, Bi believes it is the only way to see different cultures and histories.
"If the scenery is same every day, we will easily become dull. On the contrary, if we go to a strange place, we will soon enter a condition of meeting and thinking about diverse cultures."
Bi Shumin stands near the icebreaker at the North Pole. [cyol.com]
(Source: cyol.com/Translated and edited by Women of China)