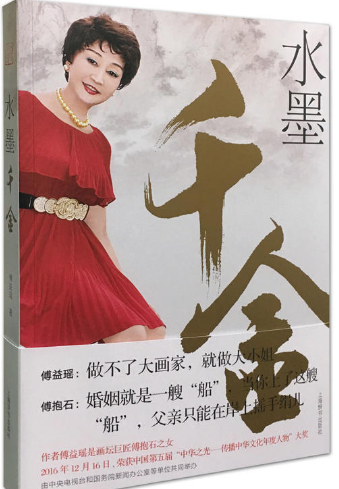 Cover of Fu Yiyao's book [dangdang.com]
Fu Yiyao, one of China's leading ink wash artists, released her new book on December 6 in Shanghai.
Fu followed the words of her father, Fu Baoshi (1904-1965), who was the representative landscape painter of his time, to study Chinese language in college. She set foot in painting circles due to her strong attachment to the art and since became an outstanding painter.
In 1979, Fu was one of the first batch of overseas students sent to Japan after the country's reform and opening up. She was famous for large-scale ink wash painting and held many exhibitions around the world, helping promote Chinese painting worldwide.
Fu said that her original dream was to become an actress, but her father thought that literature plays an important role in one's growth and is also a qualification to start painting. Later, Fu gradually understood her father's deep love for her.
After residing in Japan for 40 years, Fu said she genuinely understands the superiority of her motherland's culture and she will constantly promote the art of ink wash painting. She believes that she has abided by her father's wishes.
Speaking of her original intention of creating her book, Fu said, "It is not a pure autobiography for I have shared my reflections on life and art in a new form." Meanwhile, the book has three types of vision to meet the needs of different readers.
"I have got what I wanted in the process of study and creation. Love may remain only three days, but my love for Chinese culture can last thousands of years," Fu concluded.
(Source: eastday.com/Translated and edited by Women of China)