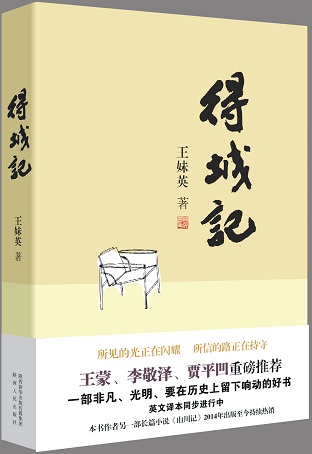 The cover of 'City' by Wang Meiying. [Xinhua]
City, a novel by Wang Meiying, a female writer from Northwest China's Shaanxi Province gained attention recently after its publishing in Chinese Writers.
The work describes the lives of three women from Shaanxi, Lingxiao, Jiumi and Yanhong. From the stories of those women, readers learn about many other characters living there and the changing of the times.
The publication of the work drew particular attention from writers in China and the novel soon became popular among readers.
"The work is deeply rooted in real life. With the colorful and varied use of words, City depicts the gain and loss of people living in the city," said famous author Wang Meng.
"City is a work about gaining the present but losing the past; about gaining urban life but losing rural life; as well as about gaining the material satisfaction while losing a person's ego," wrote one reviewer.
With this book Wang continued the critical style of writing she had used four years ago, Mountains and Rivers. Bai Ye, a Chinese reviewer thought that City directly depicts the relationship of the three women and reveals the contradiction between urban life and rural life.
Nowadays, more and more migrant workers rush to cities, and their lives have become a popular topic for writers. However, it is often difficult to present the realities of the urban life of migrants in the way that Wang has achieved, according to commentators.
City makes strong use of the art of language as it is deeply rooted in the local traditions and uses the Shaanxi dialect. Some even hailed the work as a "cultural landmark."
(Source: Xinhua/Translated and edited by Women of China)