Chinese President Xi Jinping (L2) looks at a handbook on poverty alleviation at Wang Nengbao's home in Dawan Village, Jinzhai County, east China's Anhui Province on April 24, 2016. [Xinhua/Li Tao]
During the construction of their new two-story residence, Wang Nengbao and his wife Zhang Bangruo have gone and looked at their new building almost every day for the last several months. "We will move in before October. Our daughter has already purchased some furniture for us," said the 68-year-old man with a bright smile as he stands at the door of his old residence.
"I never thought that I would have an opportunity to live in a building like this. What I most want is to express my thanks for President Xi and the Party's good policy," Wang said.
In April, 2016, Xi inspected the village on the Dabieshan Mountain, one of the birthplaces of the people's armed forces and the Chinese Revolution.
"The General Secretary walked along the stone steps and arrived at my home," Wang explained. Wang stated Xi is kind and he looked at a handbook for poverty alleviation while inquiring about his family's condition. Meanwhile, Xi praised his house for being kept clean and tidy and asked him how much it cost to take medicine a year as well as whether he could afford the medical fees.
When he was young, Wang was a soldier. The stubborn man never shed tears despite the fact that he and his wife had struggled with poverty for more than 10 years and that his son passed away suddenly. But during Xi's visit, the man was greatly impressed by Xi's thoughtful regards and his eyes were filled with tears. Standing by his side, his wife was also too excited to say a word.
This year, Anhui has formulated two major medical security policies. Due to this, over 80 percent of medical fees can apply for reimbursement. The payment of medical expenses for the couple who have suffered from pulmonary heart disease and high blood pressure was around 6,000 yuan (U.S.$ 900) a year in the past.
Wang had a surgery last year and the total medical fees is nearly 90,000 yuan (U.S.$ 13,500). Thanks to the medical security policies, he spent no more than some 10,000 yuan (U.S.$ 1,500). "The difficulty in taking medicine has been currently solved, which really is a big matter for us," the man said. Although Wang has a bad memory, he has clearly remembered all policies of poverty reduction that he was given.
"The dividend of photovoltaic power is around 3,000 yuan (U.S.$ 450) a year. The contract fee of 4 mu (0.27 hectare) tea garden is over 2,000 yuan (U.S.$ 300) a year. My wife and I have the country's minimum living allowance. We have also raised two pigs. The total income is around 10,000 yuan (U.S.$ 1,500)."
"This year, the government has arranged a job for me to work as a cleaner in the village. I have an annual revenue of some 6,000 yuan (U.S.$ 900) from the job," Wang explained to the reporter. The man said his family could have got rid of poverty last year if it were not for his illness.
Yu Jing, the first village secretary who was assigned to be responsible for poverty alleviation work there promised: "Do not worry. I will not leave unless villagers here shake off poverty." To fulfill her promise made in front of Xi last year, Yu used to visit each impoverished household in the village every month. Meanwhile, Yu paid a visit to Wang's family every week.
"Establishing documents of impoverished people must be persisted to help more disadvantaged villagers," said Xi when he discussed the matter with local village officials.
At that time, 415 villagers of 174 households were recorded into local relevant documents of poverty. Last year, 71 villagers of 20 households shook off poverty. Around 118 people of 34 families are expected to get rid of poverty this year.
To help local people escape poverty as soon as possible, the village has formed a "three legs" mode of poverty alleviation by jointly developing solar power plants, tea plantations and tourism.
At present, the average annual revenue made by solar power plants in Hushi Township is around 280,000 yuan (U.S.$ 42,000) and each villager has an annual income of some 3,000 yuan (U.S.$ 450).
Last year, the village also invited investment to build a large-scale tea plant and guided villagers to join as share holders. For those impoverished households who do own no tea plants, they can sign a 40-day employment agreement as workers during the tea-picking period. In return, each worker can get an income of around 7,000 yuan (U.S.$ 1,050).
Meanwhile, the village also led impoverished locals to develop a breeding industry by giving them 3,000 yuan (U.S.$ 450) as subsidies as long as they can sell up to 7,000 yuan (U.S.$ 1,050) worth of livestock annually.
The village surrounded by green trees and clean river has been well known to the public after Xi's visit. Visitors from other places like to tour the village almost every day.
Aside from this, the local government has helped villagers boost their incomes by asking them to rent rooms out to enterprises and as family inns. All earnings are equally divided between villagers and enterprises.
With the implementation of various poverty alleviation policies, Wang said he and his wife have confidence that they will certainly get rid of poverty next year.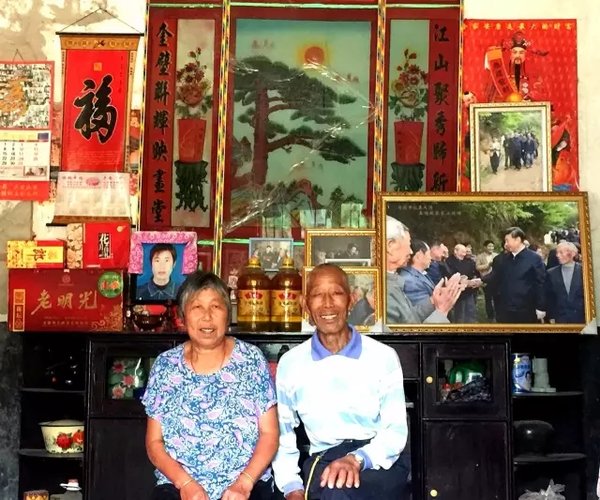 Wang Nengbao and his wife [Women Voice]
A journalist from China Women's News visits the family of Wang Nengbao. [Women Voice]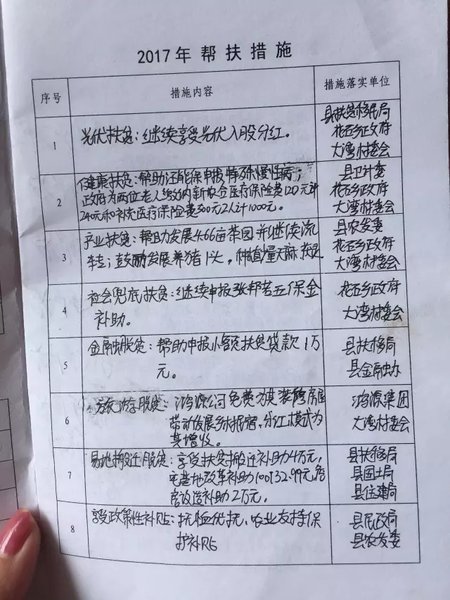 A page of paper shows poverty alleviation measures. [Women Voice]
A solar power station [Women Voice]
The village is paved with a cement road. [Women Voice]
A screenshot of the special report on the newspaper China Women's News [Women Voice]
(Source: Women Voice/Translated and edited by Women of China)