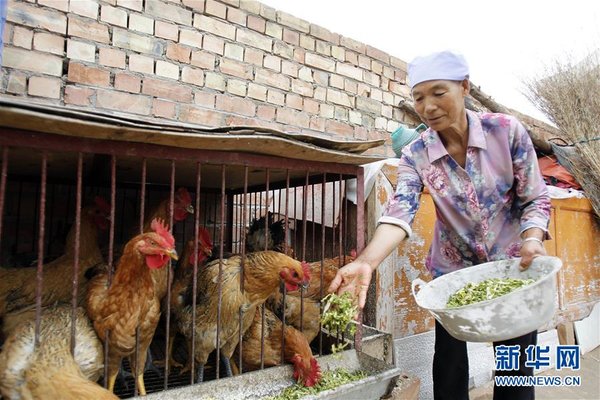 A villager in Jingxing village, Lingwu city, Northwest China's Ningxia Hui autonomous region, feeds chickens distributed by local government, Aug 28, 2017. [Xinhua]
Jingxing village of Lingwu city is an immigrant village with 2,692 people from 21 different administrative villages. According to the conditions of the village, the local government introduced large farming enterprises through land transfer and kept close cooperation with different companies. The village has gradually lifted poor households out of poverty and is thriving.
Xihaigu, known as "bitter barren land", covers seven poverty-stricken counties. It sits on the Loess Plateau, where rain is in short supply and the people experience extremely poor living conditions. But despite the tough conditions, people here are working to get out of poverty.
In the Xihaigu area, the animal husbandry industry is the key to get out of poverty, while farmers' limited knowledge of scientific breeding is the bottleneck that restricts the development of local breeding industry. In an effort organized by local authorities, foreign experts, such as Tim Harvey, a retired professor from Massey University in New Zealand, began to teach local farmers about animal breeding in the Xihaigu area in 2004.
Yuanlong village of Minning town, Yongning county, Yinchuan city, is the largest resettlement village in the county, with more than 10,000 villagers. To help villagers shake off poverty, the local government vigorously developed a planting and breeding industry. In 2015, 180 hectares were used to build the red raspberry poverty alleviation ecological park, which integrates planting, deep processing, tourism and sightseeing. Now the immigrants can gain steady benefits through various methods, such as land transfer.
Yanchi county is renowned as "The home of tan sheep", a breed raised there and in Northwest China's Gansu province. In 2017, the output value of animal husbandry in Yanchi county, mainly tan sheep, exceeded 1.02 billion yuan (nearly $149million), accounting for 67 percent of the total agricultural output value of the county in 2017. The per capita disposable income of farmers in the same year was 9,471 yuan ($1,381), of which more than 40 percent came from the tan sheep industry.
Jingyuan county is at the foot of Liupanshan National Forest Park. Thanks to the local climate, lush vegetation and other natural resources, tourism has become an important source to lift local farmers out of poverty.
Located at the foot of Liupanshan mountain, an artificial flower processing company in Longde county is an anti-poverty project introduced by the county in 2013. It produces artificial flower ornaments for households, wedding celebrations and various festivals. Its products are mainly sold to Europe, the Middle East and southeast Asia, exporting for earning foreign exchanges and increasing local farmers' incomes at the same time.
In recent years, Pengyang county, in the mountainous area of southern Ningxia, has taken advantage of the local environment and the opportunity to collaborate with Minning town, and introduced talents and technologies from East China's Fujian province to cultivate, produce and sell edible fungi.
Xiji county is rich in potatoes. In recent years, to add value to the traditional potato industry, the county has developed an extensive potato processing industry. Now, the potato industry in the county has been gradually extended, with potatoes used to produce crackers, potato chips and other products. Potatoes have become an important product for local poverty alleviation.
In recent years, Yinchuan city has focused on innovating the economic development model of the new village of immigrants. In Ningxia, it took the lead in introducing labor-intensive enterprises and farmers in the planting and animal breeding industry to settle in the immigration area. Yinchuan has attracted immigrants to work in local factories or engage in the breeding industry to help them shake off poverty and thrive.
In recent years, the Hongsibao District of Wuzhong city has adopted the model of "migrants+cooperative+enterprise", and encouraged enterprises and immigrants to develop grape planting and wine-making industries through land circulation. These two industries have become dominant industries for local immigrants to earn money.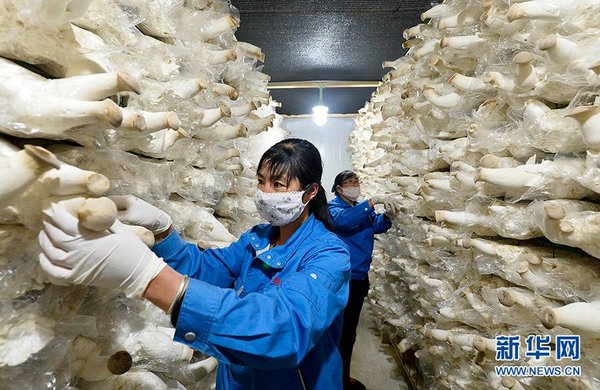 A farmer harvests pleurotus eryngii, a popular edible mushroom in a fungus industry park of Pengyang county, Northwest China's Ningxia Hui autonomous region, May 6, 2016. [Xinhua]
A villager picks raspberries in the local red raspberry poverty alleviation ecological park in Minning town, Northwest China's Ningxia Hui autonomous region, Sept. 13, 2017. [Xinhua]
(Souce: China Daily)