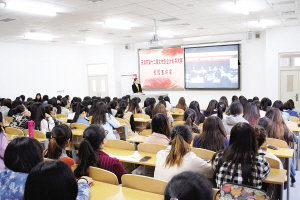 Women attend a lecture about Internet development. [Tianjin Daily]
Three successful female entrepreneurs were invited to participate in a conversation to talk about the unique role of women in the new era and express warm greetings to the 12th National Women's Congress of China.
With the advent of the age of mobile internet, many changes have occurred in women's life and work.
China currently has around 772 million netizens; some 366 million are women, accounting for 47.4 percent. Meanwhile, 52 percent of active netizens are women.
Mobile internet now covers almost every aspect of women's studies, work and life, and the trend of mass innovation, entrepreneurship and technological revolution driven by the internet has created new platforms and chances for their development.
At the gathering, the entrepreneurs shared their opinions on women's development and expressed their congratulations to the congress.
Wang He, vice-president of Jilin Youth Electronic Commerce Association and chairperson of Taozhibao Electronic Commerce Co., from Taonan, northeast China's Jilin Province, said she will take the spirit of the congress back to her city.
Wang said more and more people have called for gender equality and more women have found jobs and started their own businesses under current social circumstances.
"There are 39 female college students in our company. They have helped over 400 local women start their businesses," added Wang.
Huang Lin, head of the 360 Security Innovation Alliance encouraged more women to devote themselves to technology.
Huang said women can do as well as men on the internet and that female engineers actually account for a high proportion of those on the job market. For example, a third of employees in the alliance are women.
Nie Weiwei, founder and CEO of Nainiumama, a brand of maternity services, and co-founder of EGG, a group that serves children, babies and mothers, said it was a good chance for women to have their own careers in the internet era.
The proportion of women using the mobile internet is higher than that of men and around 75 percent of household consumption comes from women, according to statistics.
As women are the principal component of upgrades to consumption in China, the internet is expected to become even more dynamic and active with the participation of female entrepreneurs, said Nie.
(Source: China Women's News/Translated and edited by Women of China)