Wei Xueming's family (L) and Kong Xiaowei's family [Women of China/ Ye Shan]
Two moms who are also members of a delegation from south China's Guangxi Zhuang Autonomous Region recently arrived in Beijing with their families to participate in the 12th National Women's Congress.
Wei Xueming, one of the moms, is a social worker from a public service organization in Guigang City, Guangxi. She and her husband said they had not traveled so far from their home since she gave birth.
Wei revealed she felt excited after being invited to participate in the congress with her child and she was nervous due to the chance of inconvenience caused by the newborn.
Officials from Guangxi Women's Federation encouraged Wei not to worry and promised to provide support to her at the conference venue.
Wei said it is a great honor to take part in the grand gathering of women from all walks of life across the country. She hopes to well communicate with them and faithfully represent women and children in her hometown.
She also believes that personally participating in the event will set a good example for her daughter, who will be proud for having such an experience in the future.
The other mother is Kong Xiaowei, a tour guide at the Elephant Trunk Hill Scenic Area in Guilin.
She said, "Guilin is an international tourist attraction. As a practitioner in the tourism industry and an employee at the grassroots level, it is an honor for all female representatives from the tourism industry in Guilin to participate in this event."
Kong's husband Lu Yukun has also accompanied his wife to participate in the event. Kong said the conference has helped to better implement the basic State policy of gender equality into their family life.
"I hope my husband can set an example for our son and our son will grow up to be a person who respects and cares for women. I will convey the spirit of the conference to female peers and continue to introduce Guilin's beautiful scenery to friends from all over the world," said Kong.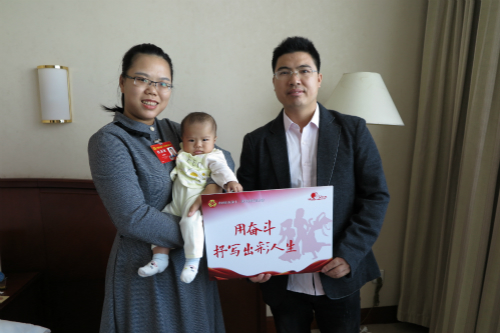 Wei Xueming and her family [Women of China/ Ye Shan]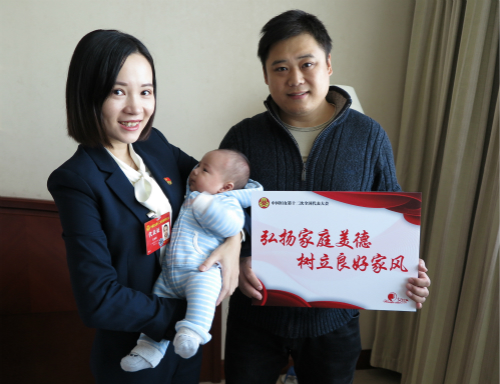 Kong Xiaowei and her family [Women of China/ Ye Shan]