Yang Li, a senior engineer at Saihanba Mechanised Forest Farm, north China's Hebei province, poses for a photo before the 12th National Women's Congress opened. [Women Voice/Fan Wenjun]
Yang Li, a senior engineer at Saihanba Mechanised Forest Farm, north China's Hebei province, recently attended the 12th National Women's Congress (NWC) in Beijing.
It is the second time for Yang to visit the Great Hall of the People. She attended a seminar there in 2017 and made a report on the "Saihanba Spirit".
She was excited and proud to attend the NWC as a delegate, she said.
Yang graduated from Agricultural University of Hebei in 2009. She went to Saihanba after graduation and worked as a secretary in the first few months.
Before she arrived at Saihanba, Yang thought there should be lush trees and grasses, beautiful flowers, rivers and rare animals in the forest.
After a 10-hour train ride and five hours on a bus, she was astonished to find that the forest farm was desolate and uninhabited and the wind was piercingly cold in December.
The managers in the forest farm organized new staff to visit a museum to learn about the history of the farm. Yang learned that the forest farm had experienced persistent sand storms decades ago and no animals survived there.
In the absence of modern tools, her predecessors had turned a harsh desert into an immense forest with hard work and persistence. Yang was touched by their stories.
In 2013, Yang volunteered to shift to work in the production team and signed up to be part of the youth vanguard team of the farm.
"At that time, we had to make a survey about the wood in the mountain in December. The outside temperature was at minus 30 degrees Celsius even in daytime. The snow on the ground went above my knees. My feet and fingers were numb and we had to enter the car every 10 minutes for a rest," said Yang.
After completing the survey, Yang joined a research group focused on the cultivation of wild plants. She searched for information and made investigations in her leisure time. Her group finally introduced 20 types of flowers to areas at lower altitudes.
In 2016, Yang became a doctorate student of Hebei Agricultural University, the first female worker pursuing a doctor's degree in the farm's history.
A special group was set up to investigate and conserve biological diversity in Saihanba. Yang and her colleagues tried to survey everywhere no matter how challenging.
"When I was conducting plant research in the mountains this summer, I was bitten by mosquitoes and some of the bites were so deep in my flesh that I had to see a doctor," she says.
Yang has been at the forest farm for eight years and will continue to devote herself to its development for the rest of her life.
"It is my great honor to attend the 12th NWC and I was excited to meet so many outstanding women who are top in their industries," she added.
Yang Li [Women Voice/Fan Wenjun]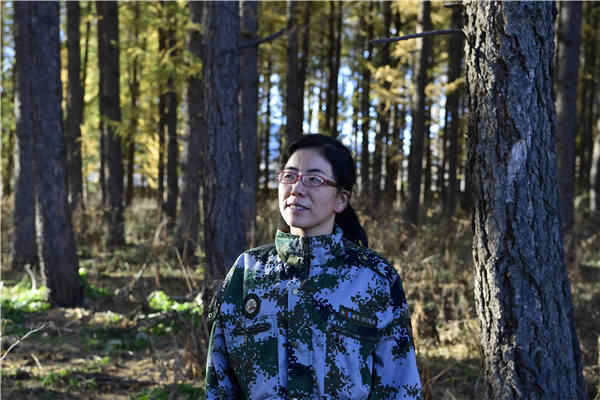 Yang Li [Women Voice/Fan Wenjun]
(Women of China)