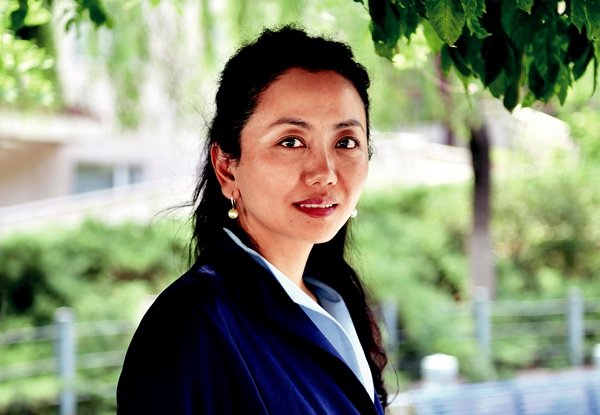 Bianba Lhamo [Women of China]
Bianba Lhamo, 44, is deputy director of the South Asia Research Institute of the Tibetan Academy of Social Sciences. In addition to her successful career, she has a warm and lovely family.
"In fact, I am just an ordinary woman in today's Tibet," says Lhamo. "Many people still connect Tibetan women with the labels of 'rosy cheeks and prayer wheels,' which are incomplete. Today, TAR's exchanges with other regions of the country, and other countries have become more frequent, and the spiritual outlook of the Tibetan people is richer and more diverse." Indeed, Lhamo's life experience is the best proof.
Affinity with the Law
Lhamo was a good student. In 1992, she was admitted to the School of Criminal Investigation, Southwest College of Political Science and Law, with the third-highest score in Shigatse (a city in TAR) during the national college-entrance examination.
In 1996, Lhamo graduated from the college and started to work in the Higher People's Court of TAR. Two years later, she was transferred to the Tibetan Academy of Social Sciences, and became a young scholar specializing in legal research. In 1999, the 24-year-old Lhamo was lucky to receive a scholarship, which allowed her to study at the University of Oslo, in Norway. As a result, she became one of the few Tibetan women to study abroad in the late 1990s.
In Norway, Lhamo studied law and conducted research into the protection of women's rights and interests in the world. For her, professional legal knowledge was not strange, but the real challenge that resulted from the collision of languages and cultures.
The University of Oslo teaches students in English, and therefore it was hard for Lhamo to understand all content during the classes, at least in the beginning. She has said the two years of studying in Norway were tough, but had a great impact on her. Her vision was opened and her perspective became comprehensive and objective; at the same time, her English improved substantially.
Learning is an endless process. In 2001, Lhamo attended Columbia University, in the United States, to study English. After she returned to China, a few months later, Lhamo earned a master's degree, in law, from Renmin University of China. She then earned a doctorate in constitutional and administrative law from Sichuan University.
Over the past few years, Lhamo has conducted detailed research in the fields of "national law research," "protection of rights and interests of ethnic minorities" and "how to promote social and economic development of ethnic minority areas." Her research reports have been praised, many times, by the leaders of the State and the TAR.
In 2018, she was elected a member of the 13th National Committee of the Chinese People's Political Consultative Conference (CPPCC).
Bianba Lhamo talks with a Tibet woman. [Women of China]
As Beautiful as Flowers
Lhamo holds two important part-time jobs; the first, a member of the China Society for Human Rights Studies, and, the second, part-time vice-president of the TAR Women's Federation. The former helps her focus on gender equality and the empowerment of women, while the latter allows her to participate in women's affairs.
This year marks the 60th anniversary of the launch of democratic reform in Tibet. In Lhamo's view, the status of Tibetan women has changed fundamentally in the past several decades. "At first, when we talked about the rights and interests of women, first of all, we mentioned the right to life. Now, it is no longer a question for Tibetan women to have the right to life. What we are thinking more about is the right to development," says Lhamo. "Before the democratic reform, serfs struggled hopelessly on the very bottom rung of Tibetan society. On the contrary, women in Tibet now enjoy equal opportunities in education, political participation, social, economic and cultural development."
Lhamo adds, "Since Tibet's democratic reform, ordinary people have been greatly liberated. Now, we no longer have to worry about food, clothing, housing and transportation. Children's rights to education and women's participation in social management are protected. They are as bright and beautiful as flowers in the sun.
"Through the comparison of present photos with photos taken 60 years ago, it is not difficult to find that the mental state of women has undergone a fundamental change. In addition to the environment and clothing, the biggest difference is the eyes. The helpless or even desperate eyes of people in the old photos have been replaced by happy and bright eyes in today's photos," says Lhamo.
"In short, Tibetan women are living in a diverse environment. They not only maintain their own cultural characteristics, but also welcome the international fashion trend."
As the part-time vice-president of TAR Women's Federation, Lhamo has many opportunities to participate in the work of the federation. She has paid more attention to some vulnerable groups, such as nuns in temples and single mothers. At the initiative of the federation, Lhamo is preparing to launch an association, whose members will mainly be intellectual women with higher education and advanced professional skills.
"On the one hand, we can learn from each other," she explains. "On the other, we can help women in need. We are lucky that we have had good opportunities to make some achievements. Now, it's our turn to give back to society."
So, how can Tibetan women live a better life? "Learning" is Lhamo's answer. "Learning doesn't only mean studying from a teacher in the classroom. There are many forms of learning. We should be good at learning from life, such as listening to news, watching TV, playing mobile phones and communicating with people. Once a person has knowledge and skills, she will no longer have to worry about losing a job. At that time, she will be free to choose her own life," Lhamo says.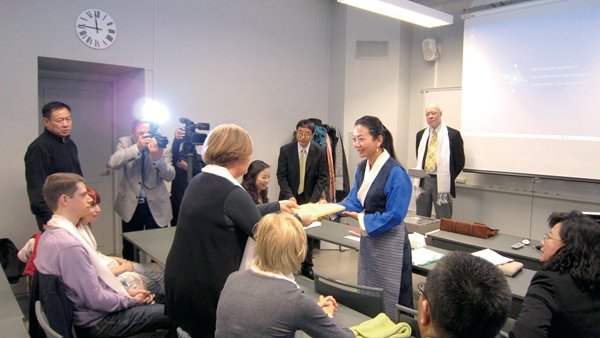 Bianba Lhamo attends an event. [Women of China]
Find Your Life's Secret
"Chinese women are diligent and hardworking. They play important roles in both society and family life," says Lhamo. "I think it's really important to allocate time properly. Give your family as much time as possible."
Lhamo has a big family, with several generations living under one roof. Family members usually take care of each other, and they help each other. Lhamo's child is in the fourth grade of primary school. She cherishes her time with her child. "Every day, I insist on picking up my child. On the way, I ask him about school, and I take the opportunity to tell him what I think," says Lhamo.
"In addition, if you want to balance your career and family, you need to have a healthy body and a positive state of mind," says Lhamo. When she feels tired, she reads a book, or lies on the sofa in a daze, or chats with her parents. All of the above help her relieve pressure.
"Mobilize yourself, make good use of your time, and plan your own affairs." That is the secret of Lhamo's life.
Bianba Lhamo reads a book. [Women of China]
(Women of China)