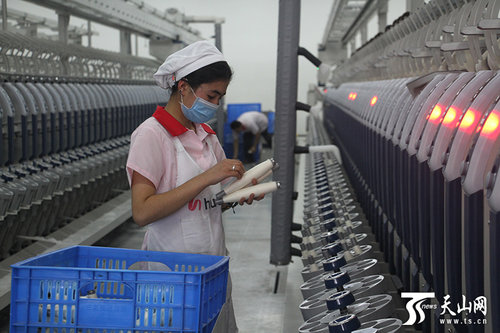 Asiguli works at the factory. [ts.cn]
Asiguli, a young woman from a small village, Wensu County, in northwest China's Xinjiang Uygur Autonomous Region, has achieved a joyful life through her hard work as a weaver and embroiderer.
In her village, almost all of the women have learned the craft of embroidery since they were young. One is even a nationally-recognized inheritor of Kirgiz traditional embroidering skills, an intangible cultural heritage.
Located at the foot of Tomur Peak of the Tianshan Mountains, villagers typically herd livestock for a living. From Asiguli's perspective, only by making arduous efforts could she shake off poverty and change her fate. She believes: "Happiness comes from hard work."
Since she started learning embroidery, Asiguli has dreamed of breaking away from the village, finding a stable job with her embroidering skills and living a prosperous life.
In addition to learning from her mother, she often consulted local experts in her free time. She earned a strong sense of achievement, knitting woolen yarns into pieces of cloth with delicate, decorative patterns.
Just like other women in the village, Asiguli found she could not change her poor family conditions even though her embroidery works sold well in peak tourism seasons like summer and autumn.
In November 2017, local government carried out a labor force transfer project among villages and towns, helping idle laborers find work elsewhere. Asiguli took part in the occupational training scheme. She said it was a chance to change her life.
"At the beginning, as my Mandarin was not good, I couldn't understand what my teacher said," Asiguli reminisced. Then, she made up her mind to learn textile-making techniques, no matter how hard it would be.
Hard work paid off. Asiguli passed the training and entered a textile workshop as an intern.
During the 10-days' probation period, she asked technical questions as well as Mandarin from a tutor. Soon, her studious efforts gained the tutor's approval. She was employed by the factory.
"For the first month, I received a salary of 2,000 yuan (U.S.$ 316) and a food allowance of 600 yuan (U.S.$ 95). I was too excited to sleep," said Asiguli. She sent all the money to her family as her mother was in poor health and her younger sister was still in school.
"We live in a good environment; we work eight hours a day; we have Mandarin training classes twice a week and all sorts of literary and artistic activities. Life is rich and colorful for us," Asiguli said. She is proud when speaking of her work in front of villagers.
"I learned advanced techniques at the factory and I made many friends. I currently receive 3,000 yuan (U.S.$ 474) a month. These are things I would never have thought of before," she said.
Like Asiguli, many women in the village have created a better life through arduous efforts in knitting and embroidery.
(Source: news.china.com.cn/Translated and edited by Women of China)