Thirteen women representatives from northwest China's Xinjiang Uygur Autonomous Region recently shared their experiences and feelings with local residents in order to publicize and convey the spirit of the 19th National Congress of the Communist Party of China (CPC).
Fu Chunli shares the Congress spirit with the villagers. [Women Voice]
Fu Chunli, a delegate to the 19th CPC National Congress and Associate Consultant at the Kazakh Ethnic Health and Family Planning commission, went to Uzumbulak rural community and shared the Congress spirit with the villagers who have been lifted out of poverty after she returned from Beijing.
"President Xi Jinping mentioned the necessity to help more impoverished people in his report at the congress, stressing accurate identification and targeted poverty alleviation," said Fu.
The 488 households that make up Uzumbulak belong to seven ethnicities. They previously lived in six different locations, and used to regularly migrate to wherever there was water and grass available.
Now, at the permanent resettlement sites, they have all of the necessary infrastructure such as medical treatment, education, transport and water, which has directly changed their production and living conditions.
Happy lives come from good policies. "The local conditions where we used to live were not good. In remote mountain areas, there was no water and crops suffered from poor soil. But since we moved here, our lives became more convenient, and I believe our future life will be even better after I heard the report," said a local resident.
"As a grassroots Party delegate, we must study the report and convey the Congress spirit among more people through plain language. At the same time, we should implement related policies in Chabuchar Autonomous County in conjunction with the current work conditions," concluded Fu.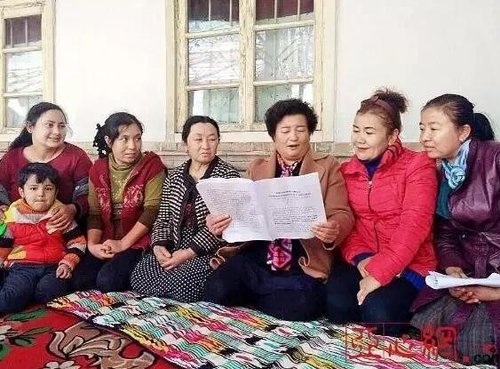 Li Yuanmin (R3) gives small talks in farmers' homes. [Women Voice]
Li Yuanmin, a National March 8th Red-Banner Pacesetter and a Party branch secretary of the town of Gaimai in Yining County, Xinjiang, delivered a speech on the Congress the night she came back from Beijing.
Li also delivered lectures in villages and towns, held thematic training classes and gave small talks in farmers' homes. She worked tirelessly to bring the expectations and care of Xi to the millions of households across the country.
At the Party Official Training Demonstration Class, Li shared her thoughts and interesting experiences with participants in simple and sincere terms.
At the seminar, she stressed that Xi is concerned for the common people and his report addresses land contracts, pensions, education, and medical care for the sake of all Chinese people.
"I want to thoroughly study Xi's report and tell more people what he said at the meeting. Meanwhile, I will also help impoverished villagers earn more money.
"The report proposes to implement the strategy of rural revitalization, so we can make use of existing conditions to find ways to do a good job with the people. We will establish a fruit and vegetable picking garden to develop tourism and guide villagers to explore different industries next year," concluded Li.
(Source: Women Voice/Translated and edited by Women of China)