A group photo of guests and award-winning representatives. [Youth.cn]
The National Youth Caricature Match awards ceremony of the "Voices of Youth" took place on April 20 in Beijing, aiming to promote Chinese culture and spirit and inspire young people to innovate new works as well as learn about culture.
With the guidance of China Publishing Group Corporation, the event was co-organized by the Communication Centre of Chinese Communist Youth League and China Publishing Group Digital Media Co., Ltd.
With the theme of "following the Party and implementing the spirit of the 19th CPC National Congress," the contest has separated categories for professional and amateur caricaturists and the youngest participant is only 7 years old.
In total, over 1,000 paintings were collected since the contest launched last year, covering the 19th CPC National Congress grassroots representatives and advanced models in culture, education, technology, economy, sports and other fields.
After one month of online voting and experts' comments, 210 works were selected and one gold medal, two silver medals and five bronze medals were given to each team, as well as, 30 excellent works and five organization units were recognized.
All entries will be exhibited both online and offline. People can enjoy these paintings not only through the internet, but through the exhibitions in cities across China.
Many experts attended the awards ceremony and some participants shared their experiences and love of caricaturing.
"The ceremony is not the end but a new start to show caricatures' advantages in popularizing positive spirits and leading the youth make progress in the future," said Lai Xuemei, general manager of the China Publishing Group Digital Media Co., Ltd.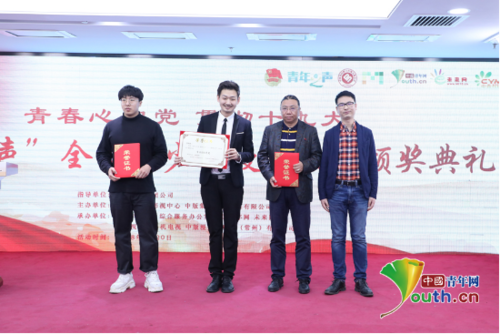 Du Du (first from the right), general manager of China Publishing M Culture Technology (Changzhou) Co., Ltd., gives out prizes to the excellence award representatives. [Youth.cn]
The gold medal works of the professional team, 'the caricature version of Jia Pingwa' (L) and another of the amateur team, 'the caricature version of Yangna' (R). [Youth.cn]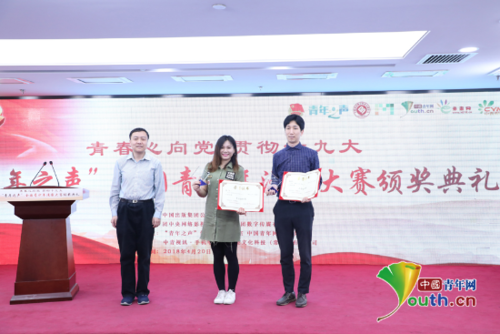 Song Lei (first from the left), director of the Development Research Department in China Animation Comic Game Group, gives out prizes to the bronze medal winners. [Youth.cn]
Xu Pengfei (first from the right), director of the Comic Art Committee of China Artists Association, gives out prizes to the silver medal winners. [Youth.cn]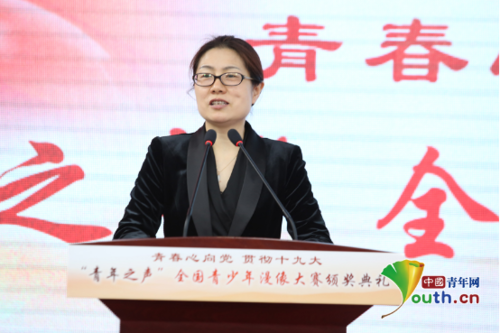 Lai Xuemei, general manager of China Publishing Group Digital Media Co., Ltd., makes a speech at the ceremony. [Youth.cn]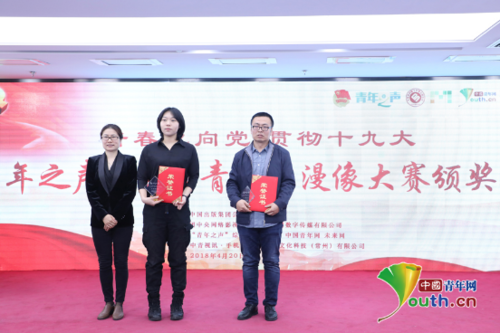 Lai gives out prizes to the golden medal winners. [Youth.cn]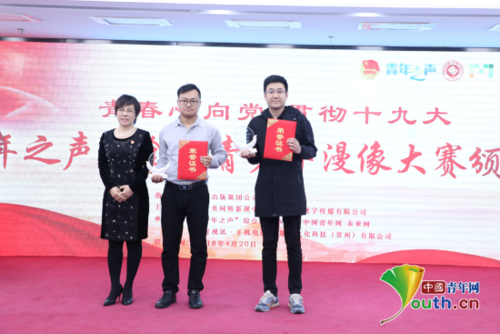 Lin Yuhong, member of the Party Committee and Deputy Director of CCCYLC and also the deputy director of the 'Voices of Youth' integrated services office, gives out prizes to the organization awards winners. [Youth.cn]
(Source: Youth.cn/Translated and edited by Women of China)