The epidemic prevention flow chart created by Zhang Weiya, a community worker in Hangzhou City, capital of East China's Zhejiang Province [qnsb.com]
A flow chart manuscript recently went viral on the social media in China for its detailed responsibility division of all parties involved in the novel coronavirus (COVID-19) prevention and control efforts at the grassroots level.
The creator, Zhang Weiya, 43, is a community worker in Xihu District of Hangzhou City, capital of East China's Zhejiang Province.
Zhang and Yuan Cailan, president of the Women's Federation of Xiaojiang Community, went to offer logistical support at a meeting on January 23 held to deploy the epidemic prevention work in the community as part of the province's first-level response to major public health emergencies.
As requested by the community's working committee of epidemic control, they took charge of purchasing necessities, accepting donations, checking inventory, on-site distribution and information registration.
Zhang and Yuan took purchasing protective gear as the top priority, so they made a detailed shopping list that included facial masks, protective clothing, disinfectant and hand sanitizers.
On January 24, the eve of the Chinese Lunar New Year, the COVID-19 prevention and control work in the committee was in full swing. Zhang said it was her first time to join in such a mission and was a chance for her to improve her services.
She decided to keep a record, and finished an article of over 6,000 words with 17 pictures, including the flow chart, that night.
Zhang hoped that her article would help quarantined households feel at ease and let them know what the community workers, Party members and volunteers had done for the residents in the community.
Zhang also learned the good practices that were commended by renowned Chinese epidemiologist Li Lanjuan during the SARS outbreak in 2003, such as forming cordons around the houses of quarantined rural households.
The practice can still restrict the entry and exit of the families and visitors but leave some space for sunshine and outdoor exercises.
"The logistical support is critical to the success of the quarantine," said Zhang.
They bought all kinds of supplies and food, even baby milk powder, for the quarantined farmers. Special care was offered to quarantined non-natives.
Zhang and her colleagues mobilized local people to send non-natives vegetables and wrote letters to them to inspire them to overcome the difficulties.
In Zhang's long article, she also praised the efforts of local women involved in the work of the COVID-19 prevention and control.
She said she hopes the village will return to normal soon.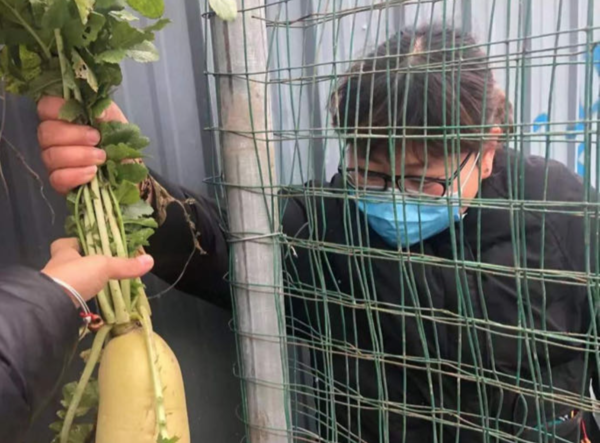 Zhang Weiya delivers vegetable to a quarantined resident. [qnsb.com]
(Source: China Women's News/Translated and edited by Women of China)