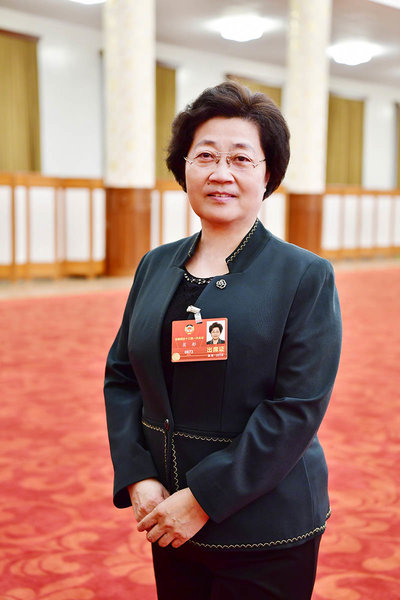 Cui Yu [Women of China / Fan Wenjun]
Cui Yu, a female member of the Chinese People's Political Consultative Conference (CPPCC), recently submitted a proposal concerning Chinese women's health to the top advisory body at the ongoing "Two Sessions" meetings in Beijing.
Cui, who is also former vice-president and member of the Secretariat of the All-China Women's Federation (ACWF), as well as part-time vice-chair of the All-China Federation of Trade Union (ACFTU), submitted a proposal called Implementing the Healthy China Initiative by Providing Free Cervical and Breast Cancer Screenings for More Women.
Speaking on March 4, Cui said: "Providing free screening services for women can effectively prevent cervical and breast cancers and reduce the impact of the diseases on families.
"According to data released by the National Cancer Center in 2017, an estimated 460,000 new cases of cervical cancer are diagnosed worldwide each year, with China accounting for roughly one third.
"It is also estimated that 50,000 people die each year from cervical cancer — an average of one death every 15 minutes," Cui continued.
"Breast cancer has become the most common type of cancer among Chinese women, with an incidence rate of 3 percent. More and more young urban women across the country are being diagnosed with the disease," she added.
Attaching great importance to screening for cervical and breast cancers, the State Council in 2009 included "providing rural women with free regular gynecological examinations" into the government work report.
Later, the National Health and Family Planning Commission (NHFPC), the Ministry of Finance and the ACWF made a joint effort to provide free cervical and breast cancer screenings for rural women.
As of 2017, over 70 million (person/times) rural women had received cervical cancer screenings and over 10 million rural women had received breast cancer screenings.
However, the prevention and treatment of cervical and breast cancers still has plenty of difficulties.
According to the data from the NHFPC, the rate of cervical cancer cases increased from 9.6 in 2000 to 16.7 per 100,000 in 2013, while the rate of breast cancer cases went from 7.9 to 12.2 per 100,000.
Meanwhile, the coverage of cervical and breast cancer screenings remains low. By 2015, over 10 million women from low-income urban families still had not been provided with the service.
To deepen the resolve to "implement the Healthy China Initiative, stick to the policy of 'prevention first', advocate a healthy lifestyle and control major diseases," as put forward by the report of the 19th National Congress of the Communist Party of China (CPC), Cui proposed a series of points.
Firstly, she suggested expanding the coverage of free cervical and breast cancer screenings from rural women to low-income urban women as well in three years by increasing financial aid.
Secondly, she suggested increasing the number of rural women receiving cervical and breast cancer screenings to 20 million and 3 million person/times respectively and making efforts to provide such services to women in 832 impoverished counties.
Thirdly, she suggested exploring measures to include free cervical and breast cancer screenings into citizens' health insurance scheme to ease people's burden in preventing and treating the diseases.