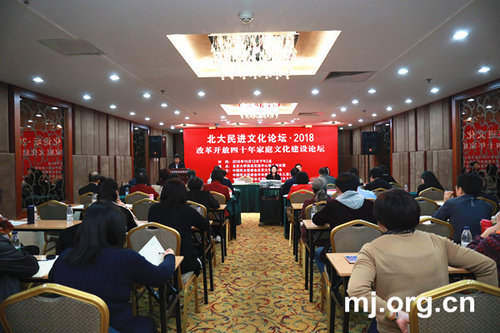 Officials recently hold a forum at Peking University, Beijing, on family culture in China and the achievements made in this field since reform and opening-up 40 years ago. [mj.org.cn]
Officials recently held a forum at Peking University, Beijing, on family culture in China and the achievements made in this field since reform and opening-up 40 years ago.
At the gathering, Ma Hongping, vice-president of Beijing Women's Federation (BWF), introduced the work done by women's federations in promoting civilized families.
Ma said family affairs has always been a priority of women's federations' work and federations will pay closer attention to it in the new era. She said the federations will put more efforts in guidance of family education, social education and protection of children's rights and interests.
In recent years, BWF has constantly reinforced its investigation and research to integrate social resources and strengthen cooperation with relevant departments, added Ma.
Jiang Yongping, a researcher at the Women's Studies Institute of China, said many changes have been introduced into the country's childcare policy and relevant industries since reform and opening-up.
After the implementation of the universal second-child policy, there were increasing needs for nursing services for babies under three, and, to some extent, this has had an impact upon women and their families' intentions to have another child.
Jiang suggested that the government should make child-rearing a public service benefiting all people and improve supportive policy systems.
Jiang also said officials should support women to find jobs, help parents balance work and family responsibilities, promoting the value of gender equality; and, help parents form proper child-rearing ideas.
Zhang Xuemei, deputy director of Beijing Zhicheng Law Firm, said the legal system involving the protection of minors has been established and improved during the past four decades.
The country has also strengthened its legislative efforts to protect rights and interests of children suffering from domestic violence, school bullying and sexual assault and children with special needs.
Zhang suggested that relevant departments should improve the legal system, popularize new laws and regulations among the public, establish special organizations to protect children, encourage more social forces to participate in child protection, and, strengthen cooperation with administrative departments and judicial organizations.
Liu Aiyu, a professor of the Department of Sociology in Peking University, spoke of the relations between family education and the development of teenager.
Liu said family education, school education and the self-cognition of students all influence the rate at which they enter key universities.
Liu suggested that parents should use more patient and encouraging ways to create a healthy environment for their children.
Zhang Songling, member of the Women and Children Committee of the China Association for Promoting Democracy Beijing Municipal Committee, shared her experiences in researching community education and guiding family education.
Zhang said mutual respect is the premise of good communication between parents and children. Parents should understand their children first, then listen to their thoughts patiently and give them correct guidance.
Tong Xin, a professor from the Sociology Department of Peking University, explained that some changes can be seen in our family culture during the past four decades.
First, family functions are continuously strengthened and the needs of people in caring for the elderly, raising children and other areas will rely more on the family.
Second, family relations have taken on a new look in the new era. Parent-child relationships are becoming increasingly important among social relations and people should take care of the younger generation fairly and create harmonious family relations.
Third, the relationship between the country and family has become closer. The government should pay attention to and support the development of family and set up a more comprehensive system to promote civilized families.
(Source: China Women's News/Translated and edited by Women of China)