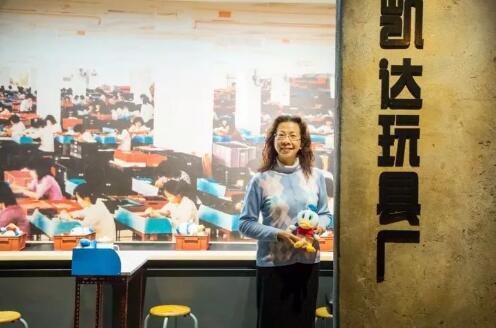 Zheng Yanping stands in front of a display about Kaida Toys Factory in a museum in Shekou Industrial Area. [Women Voice]
Representatives of the first generation of female migrant workers from south China's Guangdong Province recently shared their stories with media to inspire wider understanding of the contributions they made in the previous era.
Since the country's reform and opening-up, Guangdong has seen rapid development. It was long the first choice for migrant workers. Those traveling to Guangdong led the first wave of migrant workers.
Nowadays, this wave has swept into other areas, and the number of migrant workers overall has grown to over 200 million.
The female migrants were a unique group. Early on, they had heavy life burdens and expressed their hopes and attachment to their families. They strived for a better life with hard work and sheer tenacity.
They made substantial contributions to the development of Chinese cities and their stories have formed a vivid image of migrant workers today.
Shekou Area
In 1979, developers began to reclaim land from the sea and build a port in Shenzhen, Guangdong, which marked the beginning of the Shekou Industrial Area and the building of the Shenzhen Economic Special Zone.
In 1982, the Labor Bureau of Shaoguan, Guangdong, recruited workers for the Hong Kong-funded Kaida Toys Factory located in Shekou.
Some 80 women from Shaoguan became the first contract workers of the factory. Among this first generation was an 18-year-old high school graduate named Zheng Yanping.
"In 1981, I wanted to take part in the college entrance exam in the hope of studying in an university in another city. But when I saw the recruitment information, I changed my mind because I would go to Shenzhen to try a new life," she said.
"After working there for two years, I was transferred to Shekou Trade Union and the Women's and Legal Department until my retirement. I had a deep gratitude towards my 36 years of life in Shenzhen. I have no regrets," said Zheng, who is now retired.
Another Wave of Migrant Workers
In 1992, Chinese leader Deng Xiaoping toured southern cities including Shenzhen, Zhuhai and Shanghai to deliver a series of landmark speeches that set the tone for China's further reform and opening-up. After his tour, many of the world's top 500 companies started their business in the southern cities and this has attracted another wave of migrant workers who moved to Guangdong from inland areas.
In early 1994, Li Qingxia, 21, left her hometown Xianning City, in central China's Hubei Province, for Huizhou, Guangdong.
She worked as a maid in a hotel and was promoted two years later to the post of a manager at the room service department due to her outstanding performance.
She then went to Shenzhen and has been working in hotels for years. During her time in Huizhou, she met her husband. She still feels happy when she recalled the days they passed together.
Becoming NPC Deputies
In 2008, Hu Xiaoyan, from Guang'an, Southwest China's Sichuan Province, was elected as a deputy to the National People's Congress in the first session of the 11th Guangdong Provincial People's Congress. She spent 10 years working in Guangdong.
She, along with Zhu Xueqin from Shanghai and Kang Houming from Chongqing, became the first group of NPC deputies elected from the ranks of migrant workers. As a deputy, she paid attention to the work, life, healthcare and education of migrant workers and made their voice heard.
Hu has been an assembly line worker, a factory manager, and vice president of a district trade union. She represented millions of migrant workers and witnessed the development process of China's reform and opening-up.
In 2009, Time magazine announced "Chinese migrant workers" as its Person of the Year.
When financial crisis hit the world, China's economy was still growing at a high speed and gradually helped the world to walk out of the shadows with the efforts of the country's millions of hardworking migrant workers, said the magazine.
In cities, the continuous improvement of policies, working and living environment have created a better stage for migrant workers to realize their dreams.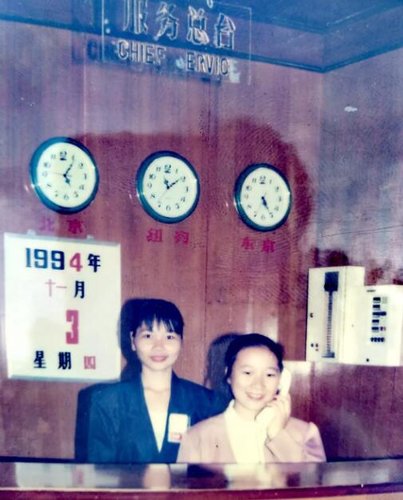 Li Qingxia at work in a hotel in Huizhou, Guangdong Province, in January 1994. [Women Voice]
Hu Xiaoyan (middle) and two migrant workers attend the first session of the 11th National People's Congress in March 2008. [Women Voice]
(Source: Women Voice/Translated and edited by Women of China)