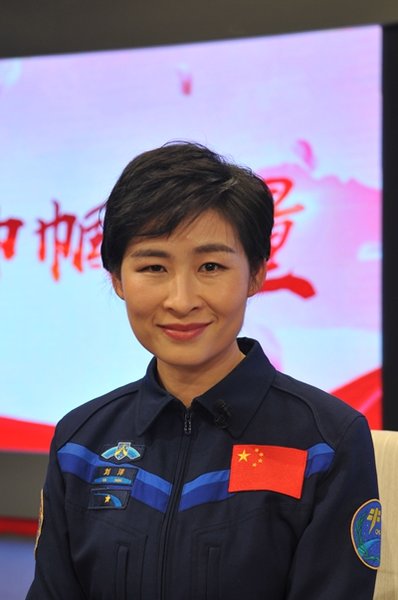 Liu Yang [People.cn]
Liu Yang, an astronaut of the People's Liberation Army Air Force (PLAAF) and part-time vice-president of the All-China Women's Federation recently gave an interview to share her personal stories on how she started her career.
Liu, 40, was born in Zhengzhou, central China's Henan province. She had dreamed of becoming a bus conductor, a doctor, a teacher or a scientist in her childhood, but never imagined she would end up becoming the first female Chinese astronaut in space.
In 1997, when Liu was in senior high school, she enrolled in the Aviation University Air Force in Changchun, northeast China's Jilin province, thereby becoming a member of the seventh batch of Chinese female pilots.
Liu said: "I've flown 1,680 hours in total. My biggest dream at that time was to fly over all the airports, big and small, in our country. I remember I was excited to see the Shenzhou spacecrafts launching into the space. But I never dreamed to be a crew member of them."
With the development of the country in terms of economy, national science and technology, and manned space technology, China decided to recruit its first female astronauts. Liu excelled in the entrance exam and qualified as a pilot for the astronaut corps in 2009.
Liu said, "I believe it is the development of our country and the advance of science and technology that has led to a great era, and lighted up my dreams and ideals."
Liu said that in comparison with her male counterparts, she faces more challenges in terms of physical fitness. Although men have greater physical strength, endurance and explosiveness, women tend to be more conscientious, delicate and resilient, she commented.
Their strong affinity is also helpful in living and working in a small space in orbit, which would be advantageous for female to further explore the universe.
(Source: People.cn/ Translated and edited by Women of China)