Wajid Khan, a reporter from Independent News Pakistan, poses for a photo in Qingdao for the 18th Shanghai Cooperation Summit, June 10, 2018. [Guo Rong/chinadaily.com.cn]
President Xi Jinping delivered a speech at the Shanghai Cooperation Organization Summit on Sunday.
President Xi called for further carrying forward the "Shanghai Spirit" to surmount difficulties, defuse risks and meet challenges.
He also announced that China will set up a 30-billion-yuan ($4.7 billion) equivalent special lending facility within the framework of the Inter-Bank Consortium of the Shanghai Cooperation Organization.
Here is a collection of comments from foreign reporters covering the summit.
Wajid Khan, a reporter from Independent News Pakistan, said Xi's speech was very "comprehensive, effective and solution-oriented".
There are some forces against globalization and Xi talked against unilateralism and trade protectionism in the international system for our global village, Khan said.
Xi also asked SCO member states to adhere to the Shanghai spirit for the peace and stability of the region, he added.
President Xi urged SCO member states to give full play to the role of the SCO-Afghanistan Contact Group to facilitate peace and reconstruction in Afghanistan, said Akifi Ahmad Khaibar, a reporter from Sputnik News/Afghanistan.
"As Afghanistan is an observer member of SCO, I hope one day it will take its state membership in the SCO", he added.
Xi mentioned that China will set up a 30-billion-yuan equivalent special lending facility to the SCO, said Andrey Kasparson, a reporter from Sputnik News, adding that it's very important because it is actual support from China to the SCO.
Besides that, Xi mentioned there will be a lot of cooperation between these countries, including media cooperation, and there will be more projects among SCO countries' media, he said.
Kasparson said he is looking forward to the first China International Import Expo to be held in Shanghai in November, saying, "For us it's very big news. We will definitely report on that".
For Mostafa Rouhani Nejad, a reporter from Iran's official media, the most impressive thing Xi has said in his speech is that we can improve our cooperation under the Belt and Road Initiative to have a better Asia, to have better cooperation.
SCO is one of the best platforms to have better cooperation between these countries in Asia, he added.
One significant thing is that Xi mentioned the Shanghai Cooperation Organization is like a community, and the member states have to work for the stability of the region, economic development, and cultural sharing, said Hassan Syed Aatizaz, a reporter with Pakistan's Dawn TV.
The SCO is important to the China-Pakistan Economic Corridor, which is going very well, a flagship project of the Belt and Road Initiative, he added.
Xi mentioned China will provide 3,000 training opportunities in human resources development for SCO member states in the next three years, said Yan Pachkevitch, a reporter from Belarus 1 TV, adding it is beneficial to make something mutual and make more contacts for those countries.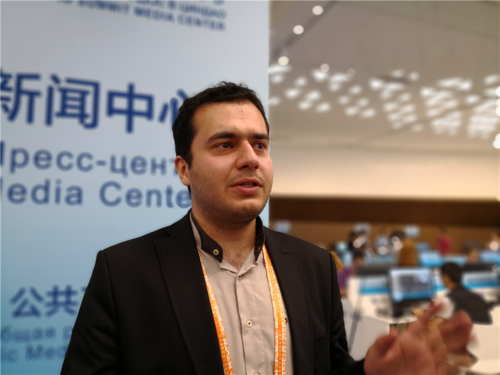 Mostafa Rouhani Nejad, a reporter from Iran's official media, is interviewed at the media center in Qingdao for the 18th Shanghai Cooperation Summit, June 10, 2018. [Guo Rong/chinadaily.com.cn]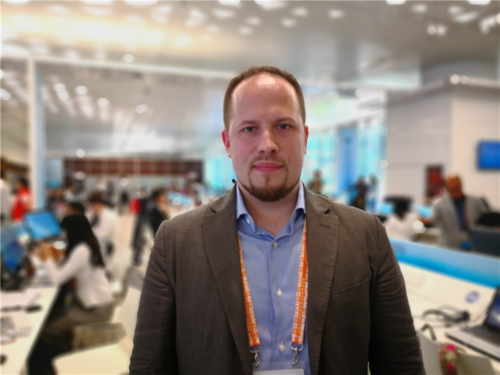 Andrey Kasparson, a reporter from Sputnik News, poses for a photo in Qingdao for the 18th Shanghai Cooperation Summit, June 10, 2018.[Guo Rong/chinadaily.com.cn]
(Source: China Daily)